Champion Spotlight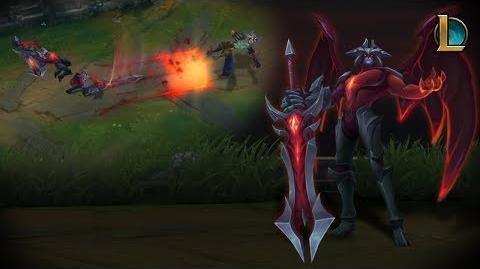 Learn to dominate top lane through
 damage-heavy exchanges and
 potent lifesteal in the Aatrox Champion Spotlight.
 Aatrox's combination of
 mobility and
 survivability enables a hyper-aggressive playstyle, punctuated by brazen dives and daring escapes. He excels at relentlessly pushing lanes, relying on his
 Dark Flight and
 Blood Well to evade incoming ganks. In team fights, Aatrox's mobility takes on a more offensive bent, allowing him to dive past tanks onto valuable back line targets.
Learn how to
 Massacre your enemies with Aatrox in the Champion Spotlight, where we'll sample the Darkin Blade's tactics, masteries and more.
Recommended Items
Tips
Playing As  Aatrox
Avoid engaging in a fight with low health unless your  

Blood Well

is full so that you regain enough health to continue fighting.
Building Life Steal can be very potent on Aatrox to help compensate for his health costs.
 

Massacre

is great at turning the tide of a battle. Make sure to use it at the right moment to maximize its benefits.
Playing Against  Aatrox
When Aatrox takes fatal damage he is healed for the amount currently in his  

resource bar

, landing a fatal blow on him while the  

resource bar

is low will result in him reviving with a lower amount of Health.
When Aatrox casts  

Dark Flight

towards your location, avoid being knocked up by moving away from the center of impact.
Aatrox is auto attack reliant for most of his damage and survivability, reducing his attack speed by purchasing
or can help reduce both of those components greatly.
Tricks
Ability Usage
When it is safe to do so,  

Blood Price

increases clear speed greatly by sacrificing health. Then  

Blood Thirst

will quickly refund that health when you are low.

​This is more useful in the jungle than it is in lane, as intentionally lowering your health makes you vulnerable, especially to being bursted down.
Mastery Usage
 Aatrox can in fact have enough life steal at the beginning of the game to completely negate  

Blood Price

. This requires the use of Vampirism, Warlord's Bloodlust, and life steal runes.
Item Usage
To counteract the effects of  

Blood Price

,  Aatrox needs at least

4.2% - 20.3% Life Steal

.

The more AD  Aatrox acquires, the more Life Steal too, but this effect is practically marginal as it never realistically increases enough to require more than one Life Steal item.

Attack speed is a significant stat on  Aatrox. It will benefit not only his damage, but also his healing from both Life Steal and  

Blood Thirst

.
Countering
Grievous Wounds reduces healing from  

Blood Thirst

. This is essential to executing any  Aatrox that can't be bursted down.
References