Aatrox/Strategy
Comments

38
1,835pages on
this wiki
 Aatrox is classified as a Fighter and Tank. His abilities primarily scale over Attack Damage and boost his Auto Attacks. This makes him a strong dueler, capable of fighting other Champions one on one/many. As such he is primarily played in the top lane, but is also capable of being played in the middle lane or jungle.
Ability usage
Item usage
Damage
Aatrox benefits from life steal since it allows him to negate the health loss from his abilities.

Trinity Force

provides many valuable stats to  Aatrox, giving movement speed, attack speed, health, attack damage, and a

Phage

movement speed bonus on-hit .

Make sure to utilize the procs of Trinity Force properly or the breadth of mediocre stats it provides will be less effective than an item more focused on a single stat.

Youmuu's Ghostblade

is especially useful once you fall below half health, as the bonus attack speed combined with the tripled healing from  

Blood Thirst

makes you very hard to kill, even without your revive passive.

For the same reason,

Sword of the Divine

can be used, although it is relatively cost inefficient.

Aatrox can use all 3 armor penetration items effectively (

Last Whisper

,

The Black Cleaver

and

Youmuu's Ghostblade

). The choice depends on whether or not you need armor penetration early, and also whether or not your enemies are focusing on armor.

If you predict that your enemies are likely to get high amounts of armor, it is best to get

Last Whisper

during mid-game, helping you transition into your late-game phase better due to the high armor penetration and low cost.
If you feel that you need armor penetration more early, or that you need cooldown reduction, getting a

The Brutalizer

is a good idea. It can later be upgraded into a

The Black Cleaver

, which offers high armor penetration and some useful health, or

Youmuu's Ghostblade

which offers a passive that synergizes fantastically with Aatrox, as well as some critical strike chance.

Zephyr

gives off great offensive stats, and the tenacity is good if not getting

Mercury's Treads

.
Tank
Sunfire Cape

's passive will allow  Aatrox to deal mixed damage, forcing enemies to itemize on some magic resist as well as armor.

Randuin's Omen

helps soak up damage in team fights and helps you survive long enough to take out high priority targets and the active slow helps catch running enemies.

Spirit Visage

in conjunction with

Ravenous Hydra

results in fast healing due to the increased healing effects of Spirits Visage and the AoE life steal from Hydra. It also sync well with his Passive and Blood thirst as it also increases their healing.

Frozen Mallet

is also a good choice since it provides 700 bonus health and an on-hit slow.

Guardian Angel

is equivalent to a second  

Blood Well

; they both revive  Aatrox after death. This gives more survivability and allows for more opportunities to finish off targets.
An early

Hexdrinker

is primarily to counter laning opponents dealing mostly magic damage. Additionally, the active shield can save  Aatrox from an otherwise untimely death.
Recommended Builds
Countering
Champion Spotlight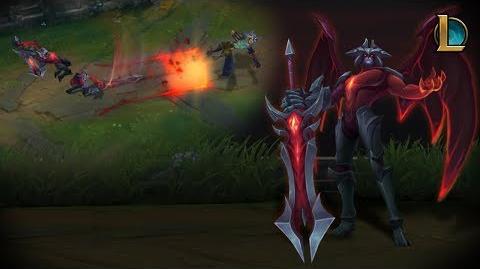 Upcoming Champions
Canceled Champions
Concept Art