For the removed item, see .
Infernal Mask is a finished item in League of Legends.[1] Only available while
Ornn is on your team. Limited to one
Master Craftsman item.

Recipe
Similar Items
Strategy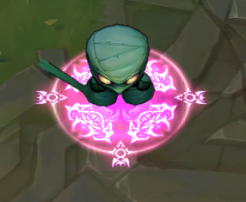 With proper maneuvering
debuff can be applied to the entire enemy team, securing kills for longer-ranged champions.
The aura remains present even while using
.
The aura improves the area damage from
, , and .
Patch History
Added to recipe from Only available while is on your team.
.
Base health regeneration reduced to 0% from 100%.
Health increased to 350 from 300.
Mana increased to 300 from 0.
Magic resistance reduced to 55 from 65.

New Unique Passive - Eternity:

15% of damage taken from champions is gained as mana. Spending mana restores 20% of mana spent as health, up to 25 per cast (toggle spells heal for up to 25 per second).
Bug Fix:

Aura range indicator now represents the actual range.
References
Starter items
Consumables
Trinkets
Distributed
Basic items
Advanced items
Finished items
Removed items