Skins
Trivia
Development
Ahri was designed by Ezreal, although Coronach helped him develop her kit.[1]

There were several different names for the Nine-Tailed Fox throughout development: Ezreal himself referred to the Nine-Tails as Gumiho (구미호).[2] The more common romanization Kumiho is a direct reference to the Nine-tailed fox from Korean mythology. A player found a poll for her name on the Riot Korea webpage,[3] which gave 6 different options to vote for:

Danbi (단비) (meaning Saviour or Saving Rain)
Nabi (나비) (meaning Butterfly)
Ruri (루리) (meaning Dazzle)
Ari (아리) (meaning Graceful or Elegant)
Chorong (초롱) (meaning Glittering)
Dasom (다솜) (meaning Loving).

Ahri is voiced by Laura Post.
Ahri is inspired by the nine-tailed fox - a mythological being originating from East Asia, specifically Korea.[4]
Ahri was simultaneously released (on all servers) with the launch of the Korean servers.
Ahri's final design has fox ears, whereas her original design did not. Her clothes were also changed.

In Spirit Rush's portrait, it still shows her original design.
General
Ahri's dance is based on the choreography for the song Run Devil Run by Girls' Generation (소녀시대; So Nyeo Shi Dae/SNSD), an extremely popular Korean girl group. A side-by-side comparison can be seen here.
 

Essence Theft

, previously shared its name with Nasus's passive -  

Soul Eater

. The name was changed in a minor patch shortly after her release.

In the Champion Spotlight, Phreak refers to her passive as "Soul Eater".

Her title on the League of Legends site is displayed as "the 9 Tails Fox" while in-game and spotlight are both "the Nine-Tailed Fox". The latter title is grammatically correct.

This has been fixed on the website.

In the League of Legends cinematic A New Dawn, Ahri is portrayed with blue eyes, whereas her splash arts and in game models show her with yellow-brown eyes.
As shown in-game and in "A New Dawn", Ahri can "bunch up" her tails at will, like when she moves.

Ahri always runs with one tail, and in "A New Dawn", she would use all her tails when dashing, but only one in-game.
Skins
In this skin, she is wearing a modernized Hanbok (traditional Korean clothing).
Additionally, this skin changes her dance to a traditional Korean dance.
This skin is a reference to the Korean Pop group, Girls' Generation. Her outfit, splash art background, dance, and recall animations bear similarity to their 2009 single, "Genie".
The skin was announced on November 5th, 2013, which coincided with Girls' Generation's release of their single, "My Oh My". A side-by-side comparison can be seen here.
This is Ahri's first splash art in which her  

Orb of Deception

is not displayed.
If  Popstar Ahri dances near the  Blue Sentinel it will dance .
In the Korean version for League of Legends, Popstar Ahri has different voice lines from her other skins.
This skin was made in celebration of the start of Season 2015.
This skin was initially called Dauntless, but it was changed due to not fitting with the theme of the skin.
Challenger is the antithesis of Championship. For example, Championship Shyvana celebrates the end of the season, whereas  Challenger Ahri celebrates the start of the season.[5]
She shares this theme with Nidalee.
This skin is a reference to South Korean school girl uniforms, contrary to the popular belief that the skin is based off of Japanese school uniforms. [6][7]
Relations
Some sources hint Ahri having a friendship with Wukong. This is confirmed by the League of Legends website.
Media
Related Themes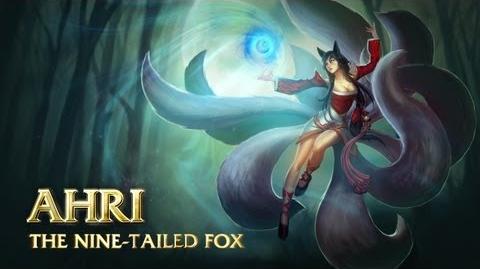 References