Skill usage
Item usage
 Ahri's damage requires her to get close to her opponents, thankfully she can build items that give her good damage while reinforcing her kit's theme of avoiding damage instead of tanking it.

 Ahri's best defense is a good offense. You must have ability power to be dangerous. Strong ability power items like , , and form the core of her damage capabiities.
If you need survivability, movement speed and cooldown reduction are key to improve your ability to kite and avoid damage. Thus the core items and along with tier 2 boots offer safety along with their strong offensive power. The armor and stasis active from are also particularly useful if you need to handle physical damage and to avoid burst/CC spells. gives good MR in dangerous matchups where you cannot dodge your opponent's damage and provides some health and a powerful slow that will allow you to kite your enemies with ease.
While she is not extremely mana hungry,  Ahri uses a fair amount of mana in lane and in prolonged fights, you will usually want to get a mana regeneration item or at least 2 to avoid running out of mana early.
Finally, cooldown reduction is crucial by late game to keep her dangerous in teamfights.

The standard starting item on Ahri, as with many other mages is health and ability power, and mana sustain with the flat mana regeneration and passive. is a possible start should you need strong health sustain in lane, however be aware that you will lack combat stats and the mana sustain is not as good as that provided by . should not be necessary, as with good mana management  Ahri will not need it.

and are poor choices as starting items. gives weak stats and the gold generation will be very weak considering that you will be last hitting minions, and only gives mediocre mana sustain with no combat stats at all. It does allow you to start with a lot of potions and/or , but should cover your warding needs until your first trip back to the shop.

along with 2 . This start provides good combat stats with
 Ahri will usually build a as her first big item. It provides 80 AP, 20% cooldown reduction and decent mana regeneration for only 2300 gold, with a forgiving build path as all parts cost 445G or less. is not preferred because it is more expensive, gives less AP and  Ahri does not really need the extra mana regeneration and MR. gives a bigger and faster power spike. Only build when you really need the extra MR.

Early cooldown reduction.
can be purchased in matchups where you will need to dodge lots of skillshots before level 6. Later they will usually be upgraded to for damage, or occasionally to if you need the
 Ahri's second core item that she will build in the majority of games. The item gives a lot of AP, mobility and its passive is a big boost to her burst and poke. It also greatly increases her ability to kill a minion wave with a single spell. Combined with the movement speed this makes your strong roaming potential even better. If you are able to obtain a strong lead early in the game (enough to buy on your first back), or if you know that you will get blue buff from your jungler, you can rush as your first item for a very strong offensive powerspike.
is
As an ability power carry,  Ahri will need to build and at some point for her damage to scale into the late game. There is no set order for these, and you should build them according to how much gold you have available, the amount of MR on the enemy team and whether or not you need a situational item.
Good final item choices on  Ahri are and . Both give 100 AP for damage. gives you armor for some survivability against physical damage but more importantly gives you the powerful stasis active which can allow you to avoid burst damage or crowd control effects that would result in your death. gives you some health for defense but also a strong slow on your spells, making you already exceptional ability to kite and chase even stronger. Note that  

Fox-Fire

counts as a single target spell and therefore applies the full slow duration.
In difficult matchups where your opponent is a big magic damage threat or if there are several AP threats on the enemy team,

Similarly, against AD opponents like  Zed,  Yasuo or  Talon, an early will give you helpful armor to mitigate their damage, and can be upgraded to right away or later in the game. Against  Zed especially, rushing is strongly recommended as the active counters his ultimate when timed right.
While true defensive items are usually not a good choice for mages,
is a possible last item if you need to make absolutely sure that magic damage burst does not kill you in teamfights. Think hard about it though, as you will sacrifice a lot of damage going this route. In the same vein can be considered as a replacement for .
 Ahri.  

Spirit Rush's

bolts have the same range as her auto-attacks, allowing her to get up to three procs per ultimate. Her generally spammy nature in the late game with CDR makes a very powerful damage item, but lacking in utility and somewhat unwieldy to use.
is a situationally strong late game pickup for

should be considered as a first item (or later in the game should you not feel the need in laning phase). It provides a decent amount of MR to increase your survivability but also a nice amount of damage with 70 AP and an MR reducing aura.
While it is rather unusual (it might be a bad idea for ranked games), she can be played as a marksman. Her range is average, her attack speed has a good base, making items effective. The mobility with  

Spirit Rush

makes it harder to single her out, especially if she has a . The crowd control of  

Charm

has a duration long enough for a squishy target to die from crits without reply, and she has strong synergy with due to her multi-cast  

Spirit Rush's

Her burst falls of in mid-late game though, as all her abilities scale from AP only.
Recommended builds
Countering
Champion Spotlight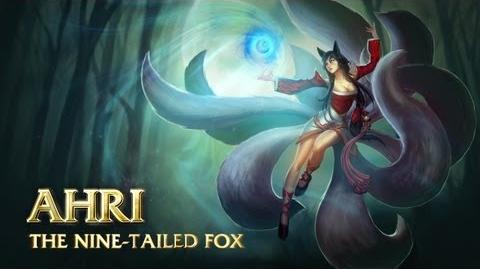 Upcoming Champions
Unreleased Champions
Canceled Champions

Concept Art