"Submit to my designs."

Use the info here with consideration. It might be outdated or biased info.
Gameplay
Greetings Summoners!
Back in the end of September, we announced The Nine Tails Fox much to the excitement of our community. Well the time has finally come and after much anticipation, we wanted to reveal the gameplay style for Ahri, the Nine-Tailed Fox.
 Ahri's gameplay style revolves around mobility and managing position to aim her spells. When played properly, Ahri darts around teamfights, picking off wounded stragglers and harrying soft enemies.
This is largely accomplished through her
 ultimate, which allows her to dash multiple times before going on cooldown. Ahri can either use all three quickly to chase, burst, or escape, or she can spread out their uses to keep enemies guessing and juke around the battlefield. Combining this with her high magic damage and her
 Charm ability to lock enemies down, she can strike from unexpected angles or bait enemies into over-committing to disadvantageous situations.
Ahri's major gameplay decisions are based on her assessment of risk/reward. Her burst is high, but must be in short range to maximize it. This creates a dynamic that requires her to endanger herself to reach full potential. Play it safe and have more light damage, or commit and go for the kill? Use your dash for damage, or save it for escape? The choices are constant with these opposed strengths and weaknesses.
Her kit is really designed to appeal towards opportunistic players who prefer characters with a lot of action, and especially players that like to lull enemies into overconfidence, only to capitalize and punish them. Ahri's dangerous, seductive nature is something we're happy to deliver for players who like to toy with their enemies before destroying them.
Champion Spotlight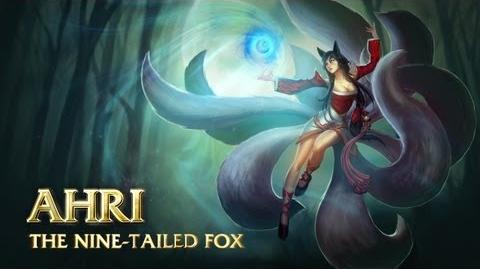 Recommended Items
Tips
Playing As  Ahri
Playing Against  Ahri
Ahri's survivability is significantly reduced when her Ultimate,  

Spirit Rush

, is down.
Stay behind minions to make  

Charm

difficult to land, this will reduce Ahri's damage potential significantly.
Tricks
Ability Usage
Item Usage
 Ahri's damage requires her to get close to her opponents, thankfully she can build items that give her good damage while reinforcing her kit's theme of avoiding damage instead of tanking it.

 Ahri's best defense is a good offense. You must have ability power to be dangerous. Strong ability power items like , , and form the core of her damage capabiities.
If you need survivability, movement speed and cooldown reduction are key to improve your ability to kite and avoid damage. Thus the core items and along with offer safety along with their strong offensive power. The armor and stasis active from is also particularly useful if you need to handle physical damage and to avoid burst/CC spells. gives good magic resistance in dangerous matchups where you cannot dodge your opponent's damage and provides some health and a powerful slow that will allow you to kite your enemies with ease.
While she is not extremely mana hungry,  Ahri uses a fair amount of mana in lane and in prolonged fights, you will usually want to get a mana regeneration item or at least 2 to avoid running out of mana early.
Finally, cooldown reduction is crucial by late game to keep her dangerous in teamfights.

The standard starting item on Ahri, as with many other mages is health and ability power, and mana sustain with the flat mana regeneration and passive.

and are poor choices as starting items. gives weak stats and the gold generation will be very weak considering that you will be last hitting minions, and only gives mediocre mana sustain with no combat stats at all. It does allow you to start with a lot of potions and/or s, but should cover your warding needs until your first trip back to the shop.

along with 2 . This start provides good combat stats with
 Ahri will usually build a as her first big item. It provides AP, cooldown reduction and decent mana regeneration, with a forgiving build path. is not preferred because it is more expensive, gives less AP and  Ahri does not really need the extra mana regeneration and MR. gives a bigger and faster power spike. Only build when you really need the extra MR.

Early cooldown reduction.
can be purchased in matchups where you will need to dodge lots of skillshots before level 6. Later they will usually be upgraded to for damage, or occasionally to if you need the
 Ahri's second core item that she will build in the majority of games. The item gives a lot of AP, mobility and its passive is a big boost to her burst and poke. It also greatly increases her ability to kill a minion wave with a single spell. Combined with the movement speed this makes your strong roaming potential even better. If you are able to obtain a strong lead early in the game (enough to buy on your first back), or if you know that you will get blue buff from your jungler, you can rush as your first item for a very strong offensive powerspike.
is
As an ability power carry,  Ahri will need to build and at some point for her damage to scale into the late game. There is no set order for these, and you should build them according to how much gold you have available, the amount of MR on the enemy team and whether or not you need a situational item.
Good final item choices on  Ahri are and . gives you armor for some survivability against physical damage but more importantly gives you the powerful stasis active which can allow you to avoid burst damage or crowd control effects that would result in your death. gives you some health for defense but also a strong slow on your spells, making you already exceptional ability to kite and chase even stronger. Note that  

Fox-Fire

counts as a single target spell and therefore applies the full slow duration.

In difficult matchups where your opponent is a big magic damage threat or if there are several AP threats on the enemy team,

Similarly, against AD opponents like  Zed,  Yasuo or  Talon, an early will give you helpful armor to mitigate their damage, and can be upgraded to right away or later in the game. Against  Zed especially, rushing is strongly recommended as the active counters his ultimate when timed right.
While true defensive items are usually not a good choice for mages,
is a possible last item if you need to make absolutely sure that magic damage burst does not kill you in teamfights. Think hard about it though, as you will sacrifice a lot of damage going this route. In the same vein can be considered as a replacement for .
 Ahri.  

Spirit Rush's

bolts have the same range as her auto-attacks, allowing her to get up to three procs per ultimate. Her generally spammy nature in the late game with CDR makes a very powerful damage item, but lacking in utility and somewhat unwieldy to use.
is a situationally strong late game pickup for

should be considered as a first item (or later in the game should you not feel the need in laning phase) It provides a decent amount of MR to increase your survivability but also a nice amount of damage with AP and an MR reducing aura.
While it is rather unusual, she can be played as a marksman. Her range is average, her attack speed has a good base, making such items effective. The mobility with  

Spirit Rush

makes it harder to single her out, especially if she has a . The crowd control of  

Charm

has a duration long enough for a squishy target to die from crits without reply, and she has strong synergy with due to her multi-cast  

Spirit Rush's

Her burst falls of in mid-late game though, as all her abilities scale from AP only.
Countering
References