Skill usage
Edit
Beyond rank 1, the  Mark of the Assassin debuff lasts longer than the cooldown, allowing  Akali to cast  Mark of the Assassin followed by  Shadow Dance, then finishing with another  Mark of the Assassin for extremely high bursts of damage.
Due to the low cooldowns of  Akali's damaging abilities, the constant usage of  Mark of the Assassin followed up by auto attacks can prevent her from running out of energy.
The stealth and slow of  Twilight Shroud can be used offensively to provide cover and allow her to chain skill combos on the enemy more quickly, but can also be used defensively to prevent drawing enemy focus during team fights and to provide aid in retreating after team fights or running from ganks. Be wary of 

vision wards

, as well as champion abilities that may reveal you.
 Twilight Shroud is great for running from enemies in the jungle, especially near brush, as you can overlap them to break vision with both the brush and  Twilight Shroud to juke enemies. You can drop a

Sight Ward

 or a  Twilight Shroud over a wall and use the vision provided to Shadow Dance to a monster over the wall.
The ability can also be used to check brushes for enemies as the stealth prevents you from being seen by enemy champions in the same brush.
 Shadow Dancing to nearby minions can be useful to quickly disengage. 
Build usage
Edit
Recommended builds
Edit
Summoner's Rift




recommended items

Starting

5

Essential
Offensive
Defensive
Consumables
The Howling Abyss




recommended items

Starting

3

Essential
Offensive
Defensive
Consumables
The Crystal Scar




recommended items

Starting

2

Essential
Offensive
Defensive
Consumables
The Twisted Treeline




recommended items

Starting
Essential
Offensive
Defensive
Consumables
Countering
Edit
 Akali is most effective when making quick kills. The longer she has to stick around in a fight the more susceptible she is of taking a heavy amount of damage.
She isn't as effective against durable opponents because of her low base health and that she is a champion that has to burst a target down quickly.
When  Akali uses  Twilight Shroud, she is very vulnerable because she will use  Twilight Shroud to hide and wait for her abilities to come off cooldown. Having a 

Vision Ward

will make her vulnerable and easier to take down.
After  Akali's burst, she has to wait for her cooldowns in order to deal her burst damage again, which takes a while, even with cooldown runes and masteries. If fighting against her, use this time to take her down.
When you are chasing her, make sure you are aware of the amount of HP you have, due to the fact that she can nuke quite easily and score another kill on you.
Against an  Akali, play more offensively until she reaches level 6; try to deny her early game, as she usually has the advantage once she gets her  Shadow Dance.

 Akali has very few offensive items early game. Zone her out so she can not farm, which will further delay her from getting her  Shadow Dance. Once she does hit 6 try to bait her into using her ability on you if you can take it, as she is less effective the less charges she has.

 Twilight Shroud will stealth her only if she remains in the AoE, Meaning that she will be out of stealth when she is out of the AoE or attacking. Try to move out of the AoE as fast as possible to prevent her from bursting you while in stealth, or pick up a

Vision Ward

if she seems to be over using it.
Take great care when chasing  Akali, as her  Shadow Dance and her  Twilight Shroud will make her a very effective juker and escape artist. Stun or silence her if she is being over-aggressive.
Champions with AoE abilities or reveals (such as  Lee Sin) can be an extremely effective counter.
Building

The Lightbringer

allows ADCs to put more damage onto  Akali, as well as countering her  Twilight Shroud.
Hitting  Akali with hard CC makes her exremely vulnerable.
Good  Akali players can use  Shadow Dance to jump out of a fight if there are nearby minions or neutral monsters.
Champion Spotlight
Edit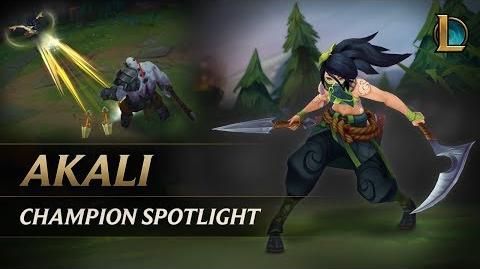 Upcoming Champions
Canceled Champions
Concept Art