Ad blocker interference detected!
Wikia is a free-to-use site that makes money from advertising. We have a modified experience for viewers using ad blockers

Wikia is not accessible if you've made further modifications. Remove the custom ad blocker rule(s) and the page will load as expected.
Champion Spotlight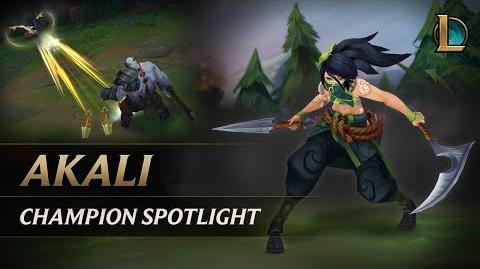 Recommended Items
Tips
Playing As  Akali
Akali excels at killing weaker characters. Let your team initiate and then strike at the people in the back.
Find the balance between storing  

Essence of Shadows

, and using  

Shadow Dance

before having max charges.
Playing Against  Akali
Akali can still be hit by area of effect spells while invisible inside  

Twilight Shroud

.
Akali greatly benefits from both
and . Watch which items she gets and prioritize her accordingly.
Return to base if your Health is low and Akali has multiple charges of her  

ultimate

.
Tricks
Ability Usage
Mastery Usage
Thunderlord's Decree is very important to being able to burst down targets early, as well as for trading in lane. It can be proc'd fairly easy using a Q - auto attack combo, as the damage from Q landing, the damage from the auto attack, and the damage from Q proc'ing are all considered separate. This also works using the damage from the second auto attack of her passive.
Once you have it, use your mastery emote after every kill. This is a very important part of Akali's kit, as it lets your opponent know how grave of a mistake they've made by underestimating you. This allows you to establish your dominance as the alpha-laner. Follow in Best Akali FL's footsteps.
Item Usage
Use
Hextech Gunblade as part of your burst combo.
Use
Zhonya's Hourglass to survive large burst, sustained damage, or to survive long enough for ability cooldowns required to kill a target or escape, especially when you are very likely to die before those cooldowns come up.
Q will activate spellblade on your next auto attack, which means you will proc your Q and hit the damage from Lich Bane at the same time; Lich Bane is guaranteed to add Tons of Damage to your combo. Keep in mind Lich Bane comes with mana, which means some wasted gold efficiency on Akali.
Lich Bane can be very useful for boosting your burst as casting your
Abyssal Scepter is a great pickup if you are against a lot of magic damage. It's passive also boosts your own magic damage by 10%, providing a nice boost to your burst.
Countering
Like most assassins, Akali can be countered through extensive hard crowd control. Examples: Wukong's Cyclone, Veigar's Event Horizon, Annie's Pyromania (passive), or Nautilus.
Akali is a champion that snowballs well into the game. She will target the ADC and Support primarily, although anyone squishy is fair game- always ward the river to let you know when she is coming- then hard Crowd Control her. She can easily 1v2 due to the level advantage and pure damage output/vamprysim that comes with a
Hextech Gunblade. When you see her coming, try to hug your tower effectively force her back to her lane, causing her to miss CS.
Try to gank her early while her shroud is down. Do not go into the shroud - Akali can burst you down from half health to 0 with a Q - E and ignite combo, even in the early game. Using champions like Lee Sin will make this easier with his vision debuff from Sonic Wave or Tempest.
Stealth Detection Abilities like Lee Sin's Tempest, Rengar's Thrill of the Hunt, or Twisted Fate's Destiny can reveal Akali while she is inside her shroud, making her vulnerable.
Akali is considered a squishy champion. Fighter Champions particularly, Juggernauts like Mordekaiser, Garen or Darius & Divers like Diana & Irelia can counter Akali thanks to their high damage & extensive toughness. Champions with high burst and reliable hard crowd control such as Annie are also excellent counters, as they can kill Akali before she is able to take any actions.
References