Akali/SkinsTrivia
Comments

77
1,909pages on
this wiki
The Community Choice Awards

As another wonderful year comes to a close we are happy to present the 2014 Community Choice Awards.
Make sure to stock up on some Poro-snax as we vote, discuss and recap all the things that happened this year in League.
Skins
Chinese artwork
Trivia
Quotes
Skins
Relations
Japan Earthquake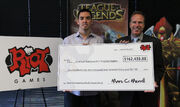 Akali and her Nurse skin were on a 50% sale from March 21st to March 27th 2011. All the revenues generated by this special sale were donated to the American Red Cross to aid the population of Japan after the earthquake of March 11th. A week later, Riot Games President Marc Merrill stated the following:[2]
Summoners! This past March 11 marked one of the greatest natural disasters in recorded history. In an effort to support those affected by the devastation, we invited all League of Legends players to donate to the American Red Cross by purchasing the Nurse Akali skin or the champion Akali with RP. The promotion ran for all of this past week, during which time 100% of all proceeds from this champion and skin were collected for the Japan Earthquake and Pacific Tsunami Fund. In the end, over 50,000 summoners chose to participate. We invited our partners from the Red Cross down to the Riot Games office to accept your donations, which totaled over $160,000! We have witnessed the power in the community in the past, but you never cease to amaze us. Riot Games and the American Red Cross would like to thank you for your generosity, and for stepping in to contribute to the relief efforts in the wake of this global tragedy.
References
Upcoming Champions
Canceled Champions
Concept Art