Anivia/Strategy
Comments

19
1,906pages on
this wiki
"Listen close- urgh, I have important- urgh! This is why I can't take you nice places!"

In V4.20, the base statistics of all champions changed. Please be wary that the information displayed below may be out-dated.
Skill usage
It is generally recommended to time  

Rebirth

 while under an allied tower or while you have your allies for protection. Do not count on your egg too much when you are alone and not under a tower. Low-level enemies can kill you because of the huge armor + magic resistance reduction and long revive time. Try to be aggressive in teamfights so you can deal good damage; be focused and let your team do the rest while they start working on your egg.
 Anivia's basic combo is to place  

Glacial Storm

, place  

Crystallize

to block the opponent from escaping, and throw  

Flash Frost

at in a line towards the edge of the wall to stun the opponent as they try to move then follow up with a  

Frostbite

.
Both the damage from passing through and the detonation of  

Flash Frost

remove a spell shield from

Banshee's Veil

. This means if you time it correctly and detonate  

Flash Frost

right after it passed through an enemy with

Banshee's Veil

's spell shield, it will dissolve and the detonation will deal full damage, stunning the target.
During the laning phase, use your auto-attacks to hide harassment attempts. Stand within attack range of an enemy champion and auto-attack minions with  Anivia. When the enemy doesn't expect it, launch a  

Flash Frost

and charge straight at them; if you time it correctly, they will be chilled and stunned, and you'll be close enough to land a follow-up for tons of damage. This is an effective strategy because the start of many of  Anivia's spell animations look similar to the beginning of her auto-attack animation, and this can often catch an enemy, expecting an auto-attack, off-guard.
 Anivia's  

Flash Frost

explosion area of effect is slightly bigger than the initial projectile's area, so try to hit the opponent twice with the spell by detonating it after it passes through them.
Anivia's wall has a cast time, so be sure to cast it WELL in front of the opponent. Just a little in front will block you off and push them away.
In the jungle, the wall,  

Crystallize

can completely block off a pathway. Allies can be blocked in/out as well so timing is essential.
 

Frostbite

deals double if the target is chilled by either  

Flash Frost

or  

Glacial Storm

, so try to time it correctly.

Casting  

Frostbite

on an opponent and immediately placing  

Glacial Storm

on top of them will chill the target, allowing for a much quicker  

Frostbite

combo.

 

Glacial Storm

is a great spell that can clear entire minion waves very quickly. Be sure to deactivate the spell when you don't need it as it will quickly drain your mana.
 

Glacial Storm

is an ideal tower taking ability, assuming you have blue buff / high mana regen. You can drop your glacial storm on the wide gap of the turret where the minions come out. This gives a lot of enemy champions problems especially if they are melee due to them having to make the choice of walking through the storm and getting hit with a  

Flash Frost

to  

Frostbite

combo or try to make their way around the small areas left not covered by the glacial storm setting up for an easy FF/FB combo. The same concept can be used from enemies playing offensively and attacking your tower.
Build usage
Recommended builds
Countering
Champion Spotlight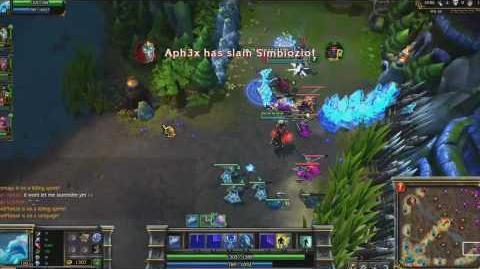 Upcoming Champions
Canceled Champions
Concept Art