Ad blocker interference detected!
Wikia is a free-to-use site that makes money from advertising. We have a modified experience for viewers using ad blockers

Wikia is not accessible if you've made further modifications. Remove the custom ad blocker rule(s) and the page will load as expected.
Champion Spotlight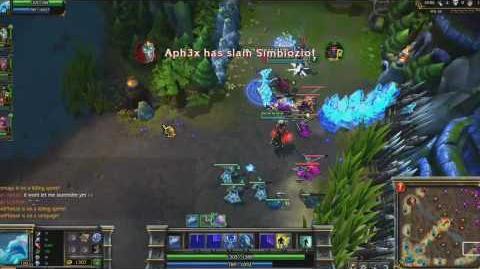 Recommended Items
Tips
Playing As  Anivia
Timing  

Flash Frost

with  

Frostbite

can lead to devastating combinations.
Anivia is extremely reliant on Mana for  

Glacial Storm

. Try getting items with Mana or go for a Crest of Insight buff on Summoner's Rift.
It can be very difficult for enemy champions to kill her  

egg

early in game. Seize the advantage by playing aggressively.
Playing Against  Anivia
Try to gank Anivia when she's laning. With multiple people, it is easier to ensure that her  

egg

dies.
If you're playing a ranged champion, stay far enough away from Anivia so you can dodge  

Flash Frost

more easily.
Try to fight Anivia in the lanes. In the jungle she can block pathways with lower ranks of  

Crystallize

.
Tricks
 Anivia is a combo mage based on landing and combining her skills onto a single enemy. However, 3 of her skills are area of effect, which increases her utility in various situations. Since her kit is focused on a quick combo and a finishing move for one enemy, being a utility combo mage with a great amount of crowd control, she is definitely a mid laner.

Strengths:

Anivia has one of the biggest auto-attack ranges. Her damage source comes from her amazing AP ratio on both hits of  

Flash Frost

and the double damage on

Chilled

targets from  

Frostbite

.  

Glacial Storm

is a great farming tool, making her an incredible pusher. With proper positioning,  

Crystallize

will push melee enemies away. As she has an incredible scaling ratio, her late game power is quite impressive.

Weaknesses:

Anivia is quite squishy, she has low base level 1 health, one of the lowest level 18 health pools, and the lowest base movement speed. She has high mana costs, 3 skillshots, and a high cooldown on  

Flash Frost

. She has a slow auto-attack animation and slow attack speed growth. Due to having low attributes, average base damage on her skills and big mana problems, she suffers on a weak early game.
 

Rebirth

will modify your armor and magic resist, depending on your level, it will drop or raise it. From level 12 onwards, it will begin to get stronger, as it will raise your armor and magic resistance values at levels 12 and 15.
Her combo is focused on an all-in-combo, so she can kill a squishy target really fast without retaliation.
 Anivia is good when fighting enemies that need to be in a specific spot ( Draven and  Trundle for example), zoning them with her ultimate. Good against enemies that need a way to get closer, as she can still maintain distance with her range or crowd control ( LeBlanc, Katarina for example). And is really strong against enemies that don't have any gap closer skills, since she has great disengage capabilities and can punish enemies that come to chase her.
The

Chilled

debuff applied by her  

Glacial Storm

and  

Flash Frost

will leave a trail even if the enemy becomes invisible.
Since  

Crystallize

creates an impassable area, it will interact with skills that need walls to have full effect. So champions like  Gnar and  Poppy can be really useful on the same team.

 

Crystallize

grants vision of the area for the duration of the wall, and will draw turret aggro if it displaces an enemy champion.
Ability Usage
Mastery Usage
The

Ferocity

,

Cunning

, and

Resolve

mastery trees can all be used, depending on what you want to focus or leave. Since

Resolve

is more focused on the defensive side, you may take two paths:

Ferocity

and

Cunning

.

Ferocity:

Pick to boost your abilities' damage. Choose for a greater damage on all stages of the game, or , for a more sustained lane phase. In Tier 3, you will select what kind of lane you are planning to play: for a safer lane, or for more damage as the game progresses. will upgrade your damage little by little for each kill, will increase your damage if the enemy got caught in CC abilities (including your own). Pick and, finally, for improved DPS.

Cunning:

Pick to easily last hit. Now choose either to increase the duration of neutral buffs or for a more safe lane with the increased potion and elixir time alongside the . In Tier 4, get either for an aggressive playstyle or for a defensive style. Get to upgrade your damage and armor, or if you are planning on spamming your abilities. Finally, get either to upgrade your mobility or to upgrade your burst damage.

The remaining 12 points will be spent in ways of mitigating her weakness or increasing her utility/damage. Remember that your masteries will be complementing your playstyle, so choose wisely based on what enemy you will face. Set up your combinations and play accordingly.

If you have chosen the

Ferocity

path, spend some points in

Cunning:

the , longer Crest of Insight duration, mana regeneration, , or . For

Resolve

points, if you got and , pick and then , as it will increase all heals and shields on you (including those from and ) You may also pick to reduce your summoner spells' cooldowns significantly.

Runes:

There are various situations that will improve the laning phase or your late game presence depending on what you are planning.

Marks:

Since  Anivia's abilities have high AP ratios, flat AP can be better than flat penetration. Magic Penetration can still be a good option because AP will increase the scaling of your skills. The flat penetration is necessary to maintain your damage as the game progresses, as the enemy will try to mitigate it by stacking health and resistances.

Seals:

 Anivia is one of the squishiest champions, so improving her defenses is a must. Flat armor (or sometimes scaling armor) can make your lane a bit safer against AD opponents, primary assassins or bruisers. Health (flat or per level) can sometimes be better than armor or magic resist, since  Anivia has the lowest early game health and you need durability as well as defenses. Mana regeneration can still be good too, as the spam requirement of her abilities to maintain constant damage will deplete her mana pool quickly, so this can mitigate her high ability costs during early game.

Glyphs:

Magic Resistance (flat or scaling) is the better option for a more defensive playstyle.  Anivia has extremely high mana costs, so flat mana is a must have too. Flat AP or scaling AP are good options to greatly improve your damage, scaling for a better late game and to complement your AP if you are buying mana and cooldown first. Because her CC abilities have high cooldowns, CDR can be a viable choice if you are intending to focus only on damage.

Quintessences:

For an offensive approach: flat AP, scaling AP or flat penetration. For a defensive approach: flat or scaling health, armor, and magic resist. For utility: flat mana, scaling mana, mana regeneration, scaling regeneration, movement speed.

For a general playstyle against heavy AD teams: Flat Ability Power Marks, Flat Armor Glyphs-Seals and Flat Mana Quintessences (or Scaling Mana if you prefer to buy a
first)
Against AP oriented teams: Flat AP Marks, Flat Magic Resistance Seals, Scaling Magic Resistance Marks (because your will not build magic resistance items at all) and Flat Mana Quintessences (or Scaling Mana ones if rushing an offensive item).
Item Usage
 Anivia has severe mana problems. Without Crest of Insight, she can quickly run out of mana from many of her abilities, especially  

Glacial Storm

. Consider buying a , another and some potions on your first recall.
 Anivia's build. She can stack really fast by spamming her skills on minions and even placing  

Glacial Storm

while in the base for free stacks.

Note:

 

Glacial Storm

doesn't stop while ing, so always use it before leaving or entering the base.

, and eventually  is a must have path on
The best way to build  Anivia is to focus on mana, keeping her damage and increasing her survivability. So the standard and best build is:

Two items to sustain her mana pool (
, or )
Boots of choice (
, , or ).
One purely offensive item (
or )
An offense/defense hybrid item (
,  ,  ,  ,   or even another since its passive will still stack)
A purely defensive item (
,  , or )

Note:

If it proves necessary, pick purely offensive items and two purely defensive ones.

A suggested defensive combination is
and . The bonus magic resist, health, mana, mana regen and CDR will prove more useful in the safe zone. This option can get really better with a .
The second combination (
and ) is the more offensive option. The extra mana regen, bonus mana pool, and the useful shield alongside the reduced cooldown, in this way, will be more offensive, plus the passive to deal with sustain-based enemies. In this option, will prove more useful.
The third option (

A  Anivia in her laning phase, giving her some much needed health and mana and can be built into a  later in the game.
is a great item to help
will have multiple uses. Since your abilities have high AP ratios, it will increase your damage sufficiently. The bonus armor will make your egg more resilient to damage and the active can be a life saver in teamfights. is also very effective against AD assassins.
As a pure AP caster,
should be bought if you are having trouble with tanks and bruisers.
Even not being common,  

Frostbite

can result in a useful hybrid burst, as the bonus damage from  is physical.
can be incredible useful, since she can stack faster. The extra damage added to your

and ) will be a balanced way. They will synergize extremely well, the bonus mana will increase the active shield, the bonus AP from your mana pool, the bonus health from the RoA passive, and the lane sustain. In this build a second , or will prove more useful.
Due to  Anivia being a combo mage based on crowd control and positioning of skillshots, will boost your damage, give more survivability, and provide more crowd control, thus making it easier both to execute your combos and to catch enemies/prevent them from reaching you.
 Anivia is a very squishy champion without any escape ability, the revival passive combined with  

Rebirth

can completely ignore the focus on you, since to bring you down, you need to be killed 3 times.

Sometimes
can be better than . To avoid too much targeted skills or intense poke, the spellshield will prove more useful than any other defensive item.

will prove very useful. The armor and magic resistance will make your egg tougher. Since
Because Anivia's damage comes from only three abilities and two of them have a high AP ratio when applied on a

Chilled

target, is very beneficial in increasing her damage.
 

Glacial Storm

can yield devastating results. The flat penetration in conjunction with the damage per second and the enhanced burn for the passive can make you a deadly presence in teamfights. also helps a lot with penetrating tanks.
in conjunction with
Since Anivia can be very mana hungry, consider starting out with
s + s. In other words, anything that improves her sustain is a good way to start your game.
is a good pick, but should not be considered a core item. The extra mobility can be good at some stages of the game, but there are more essential stats to acquire, like cooldown reduction, mana and survivability, so consider the purchase carefully.
Avoid buying pure damage first, your core stats are mana and health.
or  should never be a first or second item on your build.
Countering
References