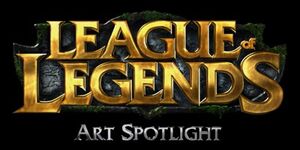 An
art spotlight
is a video uploaded on the Riot Games YouTube channel showing a timelapse of an artist making the art of a champion.
For most champions it is making of classic skin splash art with an exception of
 Cassiopeia, which showed animating 3D model, and
 Renekton, whose art spotlight featured his Outback skin.
Ad blocker interference detected!
Wikia is a free-to-use site that makes money from advertising. We have a modified experience for viewers using ad blockers

Wikia is not accessible if you've made further modifications. Remove the custom ad blocker rule(s) and the page will load as expected.