Skins
Trivia
Development
Ashe's voice-over is done by Melissa Hutchison.[1]
Ashe is possibly based on Guinsoo's Dota hero Traxex the Drow Ranger

Both share similar appearance and weaponry with each other.
Both share the same ability in which they shoot ice arrows to attack, slowing the target in the process.
Lore
General
She is the protagonist champion of Howling Abyss, the tutorial map.
Ashe was the first champion to have a full rework of her Splash Arts.
Ashe is currently the only champion, as of late Season 3's champion classification, to be recognized as both a support and marksman champion.
One of Ashe's arrows can be seen shot through an apple in the Mac Version Launch of League of Legends.

Her bow is also seen in a later part of the video.

Ashe was one of the champions chosen for the Ionian pool available during the 2010 Ionian Versus Noxus Grudge Match. She was one of the selected champions.
Ashe's dance references to Alizee's J'en Ai Marre! dance. A side by side comparison can be seen here.
Ashe and Ashelia B'nargin Dalmasca from Final Fantasy XII shares similar name, both are princesses and then became the queen, use ranged weapons(Ashelia uses Hand-Bombs in the sequel; Final Fantasy XII: Revenant Wings) and both were once hunted to apprehend them from becoming a leader to their people.
Ashe is the first and so far the only champion to possess a non-ultimate ability with global range (Hawkshot) as well as two global-range abilities. (Note: Ekko's Timewinder and Chronobreak potentially have global range, albeit it is very situational).
Quotes
Skins
|
Ashe appears to be ambidextrous. In her Classic, Freljord, Sherwood Forest and Woad skins, she holds her bow in her left hand, but in her Queen, Amethyst, and Heartseeker skins, she holds her bow in her right hand.
The Chinese version of Ashe's original skin is the background image of the "Offense" section in the mastery pages.
|
This skin is a reference to Robin Hood.
In all of her other skins, Ashe has blue eyes, but in her Sherwood Forest skin, she appears to have green eyes.
|
This skin references the medieval Picts tribes, also known as the "Woads".
The Woad Ashe artwork bears a strong resemblance to Guinevere from the 2004 movie King Arthur.
|
This skin is a lore reference to her role as the leader of Freljord.
Rakelstake, the capital city of the Freljord and the Avarosan tribe, can be seen in the background of her splash art.
She shares this theme with  Tryndamere, seeing as both of these skins portray them as the leaders of the Freljord, in lore.
|
Amethyst is a violet variety of quartz often used in jewelry.

It is also known as a meditative and calming stone which works in the emotional, spiritual, and physical planes to provide calm, balance, patience, and peace. This fits perfectly  Ashe's approach and goals for the Freljord.

Ashe's hairstyle in this skin resembles that of Angela Blanc from the anime/manga Black Butler (Kuroshitsuji). Coincidentally, Angela's male counterpart's name is Ash, and both characters have amethyst-colored eyes.
|
This skin is a tribute to Valentine's Day 2014.
The background resembles the maze in Alice in Wonderland.
Charmed Tryndamere can be seen in the background.
Heartseeker Ashe is categorized as "Miscellaneous" when the champion skins are filtered by champion in the store.
|
Her armor resembles the Daedric armor from the video game series The Elder Scrolls.
She shares this theme with  Warwick.
Relations
Media
Related Themes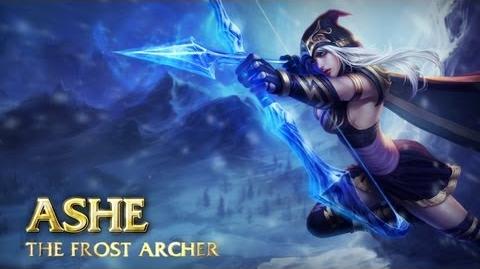 References