Ad blocker interference detected!
Wikia is a free-to-use site that makes money from advertising. We have a modified experience for viewers using ad blockers

Wikia is not accessible if you've made further modifications. Remove the custom ad blocker rule(s) and the page will load as expected.
Champion Spotlight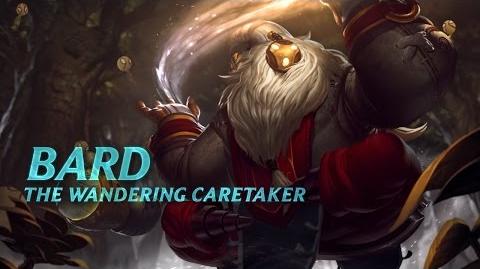 Recommended Items
Tips
Playing As  Bard
It's important to collect  

chimes

to improve your  

Meeps

' attacks, but don't neglect your lane partner! Try to make a big entrance by bringing an ally into the lane with you with  

Magical Journey

.
Let your  

Caretaker's Shrine

s charge up - they heal for a lot more when at full power.
Don't forget that enemies can also use your  

Magical Journey

doorways, and that your  

ultimate

can also hit your allies!
Playing Against  Bard
Bard's opponents can also travel through his  

Magical Journey

doorways. You can follow him, if you think it's safe.
You can crush Bard's  

healing shrines

just by walking over them. Don't let his allies take them without a fight.
Bard's ultimate,  

Tempered Fate

, affects allies, enemies, monsters, and turrets alike. Sometimes it can be to your advantage to jump into it!
Tricks
Ability Usage
Mastery Usage
 

Meeps

available. Simply autoattack the enemy and land a  

Cosmic Binding

.
can be easily utilized with
Item Usage
 Bard is commonly played as an lane bully support who utilizes massive amounts of cooldown reduction and tanky items in order to take advantage of his ability to setup teamfights from afar.

 Bard can also utilize magic penetration due to the nature of his  

Meeps

gaining large amounts of magic damage as he collects  

Chimes

. This allows items such as and to compliment the tanky nature of his build.
 Bard as he succeeds in his lane bullying endeavors. As this allows him to extend farther to collect more chimes and return to lane in a timely manner.
is a valuable item for
Countering
Bard's really mobile and can set up good ganks with his  

Magical Journey

and  

Cosmic Binding

. Be careful when he's missing!
Note the position of his  

chimes

. At some point he will try to collect them and might be an easy picking.
References