Ad blocker interference detected!
Wikia is a free-to-use site that makes money from advertising. We have a modified experience for viewers using ad blockers

Wikia is not accessible if you've made further modifications. Remove the custom ad blocker rule(s) and the page will load as expected.
Champion Spotlight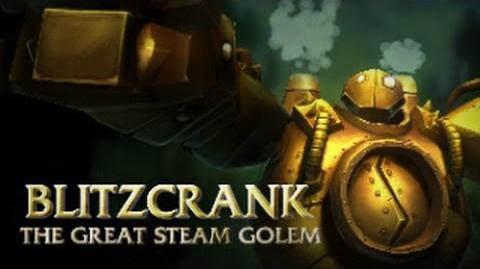 Recommended Items
Tips
Playing As  Blitzcrank
The 1-2-3 combo of  

Rocket Grab

,  

Power Fist

, and  

Static Field

can devastate an individual opponent.
Using Blitzcrank's  

grab

to pull an enemy into your tower range followed by a  

Power Fist

will allow the tower to get several hits on them.
Playing Against  Blitzcrank
Blitzcrank's passive  

Mana Barrier

grants him a shield when he is low on health.
Staying behind creeps can prevent you from being  

Rocket Grabbed

. Blitzcrank's  

Rocket Grab

only pulls the first enemy target it encounters.
Tricks
Ability Usage
 

Rocket Grab

is an offensive ability where Blitzcrank fires his RIGHT hand in a target direction dealing magic damage and pulling the first enemy hit to him.

Don't spam  

Rocket Grab

at early levels as it has a steep mana cost of 100 mana, while your maximum mana at level 1 is around 300.
Mastery Usage
Item Usage
Countering
Try to stand among the minion wave as Blitzcrank can't pull through minions. Watch out for low health minions, Blitzcrank may try to pull right after the minion dies for a sneaky hook.
References