Gameplay
Champion Spotlight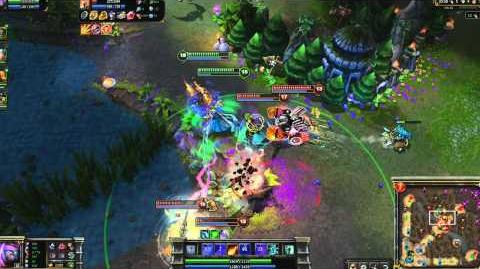 Recommended Items
Tips
Playing As  Brand
You can deter enemies from standing near their minions by setting them  

ablaze

, due to  

Conflagration

.
You can use Brand's abilities in a variety of combinations to maximize his damage in different situations.
 

Pyroclasm

bounces randomly between enemies, so try to cast it on a small group of enemies if you want to hit the same target multiple times.
Playing Against  Brand
Brand must land an ability before his combo is able to get started. Dodging his  

Sear

or  

Pillar of Flame

will disrupt his rhythm.
Try to move away from allies when you see  

Pyroclasm

being cast. The initial missile speed is slow, which should give your team time to react.
Brand's  

passive

allows him to excel in poking engagements. Be careful not to lose to much health before fighting.
Tricks
Ability Usage
Deciding what spell to apply  

Blaze

first with is a very important factor when engaging the enemy.
If you are able to cast your spells quickly,  Brand can actually be very effective at close range. Close proximity allows  

Sear

to hit a lot easier, so if  

Conflagration

is used just before the missile hits, the stun is very reliable.
 

Pillar of Flame

has the longest cooldown of all of  Brand's basic abilities. Because of this, it is not the best ability to kill a single champion.
 Brand can easily clear minion waves.  

Pillar of Flame

will allow  

Conflagration

to deal area of effect damage due to the active  

Blaze

debuff.
By using  

Pyroclasm

's bounce,  Brand can cast on a nearby enemy and subsequently hit, or even kill, a weakened enemy Champion who would otherwise be out of range.
 

Pyroclasm

does not prioritize Champions unless hitting an  

ablaze

target, so avoid casting it when close to minions or neutral monsters.
Remember that  Brand, like  LeBlanc, is primarily a combo champion. Using one spell at a time is a huge waste of damage potential, and it's better to stay at the back of the fight while waiting for your cooldowns on one of your 3 main abilities.

When you are focused on one champion, your combo should usually be  

Conflagration

,  

Sear

, then  

Pillar of Flame

. This combo allows  

Sear

to stun, ensuring the enemy will be in the AoE for  

Pillar of Flame

and offering little time for them to retaliate. If you are fast enough, you may be able to cast  

Sear

first and, while the missile is on its way to the target, hit them with  

Conflagration

before it connects and throw down  

Pillar of Flame

.
When you want to do maximum damage to multiple enemies, pick a target, cast  

Sear

at them, after  

Blaze

is applied, cast  

Conflagration

to hit multiple targets and apply  

Blaze

to each one, then finish with  

Pillar of Flame

. This combo, if all hits connect, can do huge AoE damage. If your  

Pyroclasm

is off cooldown, throw it out as soon as enemies are grouped together enough.

 Brand makes an excellent choice as a solo laner as the AoE, combo-effectiveness of his spells allows him to farm minions quite well and keep opponents out of exp range and from last-hitting minions. His high mana cost, however, means frequent trips back to base. Be wary of being caught on low mana, because his anti-champion combo is relatively expensive.
Brand has a very effective escape mechanism. Inflict  

Blaze

 by using  

Conflagration

, and then stun with  

Sear

 while running. Do not cast  

Pillar of Flame

 as it has a longer spell cast animation, which isn't beneficial when trying to escape.
Mastery Usage
Item Usage
Countering
References