Ad blocker interference detected!
Wikia is a free-to-use site that makes money from advertising. We have a modified experience for viewers using ad blockers

Wikia is not accessible if you've made further modifications. Remove the custom ad blocker rule(s) and the page will load as expected.
Champion Spotlight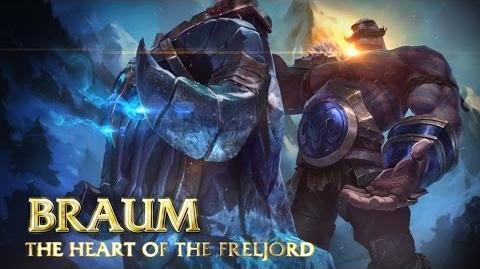 Learn to flex your protective muscles and master the art of
 shielding your friends and
 stunning your foes in the
 Braum Champion Spotlight.
Braum's a tanky defender able to deflect both enemy attention and damage away from his teammates. During laning, dish out
 Concussive Blows to your enemies before letting your marksman trigger your
 passive's stun, or, when you ally starts taking damage, quickly reposition with
 Stand Behind Me before using
 Unbreakable to save them from further harm. As the enemy team starts gathering, smash through their defenses with
 Glacial Fissure's huge shockwave before slowing fleeing stragglers with
 Winter's Bite.
Recommended Items
Tips
Playing As  Braum
Work with your allies to stack  

Concussive Blows

, encourage them to basic attack marked targets.
 

Leap

in front of squishy friends and shield them from projectiles with  

Unbreakable

.
 

Glacial Fissure

leaves a powerful slow zone, position it well to split teamfights and slow the enemy approach.
Playing Against  Braum
Braum must land  

Winter's Bite

or a basic attack to start  

Concussive Blows

. If you get marked, exit combat range before getting hit 3 more times to avoid the  

stun

.
Braum's  

ultimate

has a long cast time, use that extra time to dodge. Walking over the  

frozen ground

left behind will slow you, position so that you don't need to cross it.
 

Unbreakable

gives Braum extremely strong directional defense, either wait until it is down or outposition the ability.
Tricks
Ability Usage
When laning  

Leap

to a minion close to your enemy to create an advangtegous situation and immediately start stacking  

Concussive Blows

.
In teamfigths be sure to tag other enemies with  

Concussive Blows

after you've triggered the stun.
While there's a cooldown for marking the enemy with  

Concussive Blows

after it has been triggered note that you're hitting that enemy for additional magic damage during the cooldown.
Mastery Usage
Item Usage
Countering
Be aware of enemy champions and minion positions - Braum can  

Leap

to them and start stacking his  

Concussive Blows

.
References