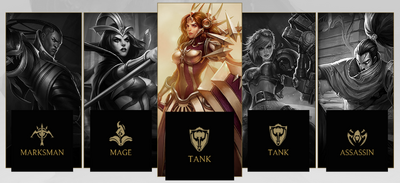 Champion attributes (also known as tags) refers to several categories that describe champions based on their abilities and role.
Categories
Those categories are copied exactly from the game client, and will be listed on each champion normal page. Note that some champions are capable of more than just the role or roles they are listed under. A champion's abilities, items they gain throughout the game, and one's ability to fulfill that duty determine what role they assume in gameplay.
As of V3.10, a champion's primary and secondary tags are now listed separately in the client's champion overviews. However, the in-client Summoner Profile and champion select only feature filters by primary attribute. LeagueofLegends.com's champion list will use both primary and secondary indiscriminately when filtering by attribute.
Primary Attributes
Former Attributes
Carry: Champions with high auto-attack damage. Ranged carries sacrificed defensive abilities, while melee carries all featured some means of innate survivability. At the time of its removal - no melee carry featured movement inhibiting crowd control. The carry class was composed of all Marksman, as well as  Fiora,  Gangplank,  Master Yi and  Tryndamere ( Aatrox was originally classified as a carry when revealed on the PBE). When the term "Carry" was rebranded as "Marksman", the "Melee carries" were reclassified as Fighters and Assassins.
Secondary Attributes
Jungler: Champions that can easily farm monsters in the jungle at an early stage in the game and can typically take out minions waves quickly. They usually excel at taking down opponents when they can catch them off guard in lane. Some champions jungle because their lane phase isn't that strong (easily harassed, high mana dependency early on) and others are capable of both. Many Fighters, Assassins and Tanks can take the role of jungler; though it is generally expected that the champion will have some form of self sustain. 
Melee: Champions that have a melee basic attack, so they have to be very close to their target in order to do damage. They usually have more health, armor and magic resistance than ranged champions as well as heals. Most Tanks and Fighters are melee combatants, although melee Mages are not uncommon.
Pusher: Champions that can quickly kill minion waves or destroy turrets in a short amount of time. Typically, pusher champions have pets, AoE abilities, or a high amount of attack speed.
Ranged: Champions whose basic attack can cause damage at a distance (see range), allowing them to avoid many harmful risks and increasing their flee capability. Ranged Champions are divided into two sub-categories: Mage and Marksmen champions. Mages have a weak auto-attack and focus on high damage spells or Support, while Marksmen tend to focus more on frequent, powerful auto-attacks.
Recommended: Champions whose skills don't involve any complicated mechanics and playing them effectively does not require extensive knowledge of the other champions. They are all 1350 or lower, with the exception of  Sona,  Rammus and  Katarina, who cost 3150 . There is usually at least 1 recommended champion every free week.
Stealth: Champions that possess at least one ability that allows them to become invisible to enemies (other than when near turrets and vision wards). This attribute is mainly for assassin champions.
These categories aren't copied from the game. They have been discussed on the wiki and will be listed on each champion ability detail page once it is created.
Trivia
The primary role of a champion is intended to show the main role of a champion and the way he or she is meant to be played. The secondary role is intended to show either an alternative role that the champion can take, or a role that complements the primary role.

Despite this, you may freely build a champion the way you want, independent of the roles that have been assigned to him by Riot. Although this isn't often done, there are well known examples, such as  Diana, who despite being a Fighter/Mage, is often treated as, and built as an Assassin.
The champion's recommended items usually reflect the role that a champion is intended to be played.

There are no ranged champions with Tank as their primary role. In the same vein, there are no melee primary Mage and Marksman.
There has never been a champion that was classified both as an Assassin and a Tank at same time.

This is probably because both roles are the complete opposite from each other in terms of gameplay, and because the Fighter role exists, it is very difficult to create a champion that would not be better classified as a Fighter.
There are also no champions classified as Marksman and Tank, or as Assassin and Support.
Also, there isn't any champion that has Support or Tank as their single champion role. Every champion with Support or Tank as its primary role also has a secondary role.