"I could help you do that better."

This article or section may require clean-up to meet League of Legends Wiki's quality standards. Please improve it if you can.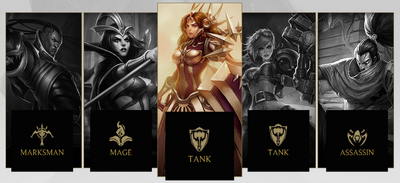 Every champion in League of Legends is assigned a number of attributes, or tags, which describe their primary/secondary playstyles and capabilities.
The primary attributes are copied exactly from the game client, and will be listed on each champion main page. Though the attribute(s) usually describe a role for that champion within the team, they are not fully limited to that role.
As of V3.10, a champion's primary and secondary tags are now listed separately in the client's champion overviews. However, the in-client Summoner Profile and champion select only feature filters by primary attribute. LeagueofLegends.com's champion list will use both primary and secondary indiscriminately when filtering by attribute.
Classes
Secondary Attributes
While unofficial, the following attributes are often still used to describe and classify champions, even by members of Riot Games:
Carry: A champion who becomes powerful enough as a match progresses so as to be able to seemingly win games single-handedly, thereby "carrying" the rest of the team on their back. Typically, this has been used specifically for basic attack-dependent champions, due to how autoattack-based builds tend to scale the hardest into the late game, but the term has also applied to mages.

Hypercarry: A more extreme version of a carry, a hypercarry is a champion whose late-game strength is assumed to be so powerful that they eventually eclipse any other non-hypercarry in power. While a very subjective term, it is one that has been applied with some level of consistency to  Azir,  Cassiopeia,  Jinx,  Kog'Maw,  Nasus,  Vayne and  Twitch.

Jungler: A champion who can successfully thrive on the jungle's resources. While more of a position, or role, the jungler attribute is dependent on certain champion characteristics, such as innate toughness, sustained early damage, self-healing, mobility, crowd control or burst damage. Not all of these traits are required, but all successful junglers possess several of them.
Melee: A champion with basic attacks defined as melee. Melee champions typically have a short combat range, but tend to make up for it with bolstered innate defenses and unique advantages to their abilities. Most assassins, fighters and tanks are melee.
Pusher: A champion who can quickly kill minions and clear minion waves, thereby "pushing" their lane towards enemy structures and enabling their destruction, which they can also typically achieve better than non-pushers. Pushers typically have area of effect damage, rapid attacks or abilities and, occasionally, pets.
Ranged: A champion with basic attacks defined as ranged. Ranged champions tend to have the most reach out of all champions, but are also more fragile on average. Marksmen and most mages are ranged.
Recommended: A champion who is exceptionally easy to learn, and thereby recommended for newer players. Recommended champions are also exceptionally cheap to purchase, each costing 1350 or less, with the exception of  Sona and  Katarina, who cost 3150 . There is usually at least 1 recommended champion every free week rotation.
These categories are internal to the wiki for purposes of categorization and classification, and aren't copied from the game.
Trivia
The primary role of a champion is intended to show the main role of a champion and the way he or she is meant to be played. The secondary role is intended to show either an alternative role that the champion can take, or a role that complements the primary role.

Despite this, you may freely build a champion the way you want, independent of the roles that have been assigned to him by Riot. Although this isn't often done, there are well known examples, such as  Diana, who despite being a Fighter/Mage, is often treated as, and built as an Assassin.
The champion's recommended items usually reflect the role that a champion is intended to be played.

There are no ranged champions with Tank as their primary role. In the same vein, there are no melee primary Mage and Marksman.
There has never been a champion that was classified both as an Assassin and a Tank at same time.

This is probably because both roles are the complete opposite from each other in terms of gameplay, and because the Fighter role exists, it is very difficult to create a champion that would not be better classified as a Fighter.
There are also no champions classified as Marksman and Tank, or as Assassin and Support.
Also, there isn't any champion that has Support or Tank as their single champion role. Every champion with Support or Tank as its primary role also has a secondary role.

 Alistar was once classified as solely a Tank.