Ad blocker interference detected!
Wikia is a free-to-use site that makes money from advertising. We have a modified experience for viewers using ad blockers

Wikia is not accessible if you've made further modifications. Remove the custom ad blocker rule(s) and the page will load as expected.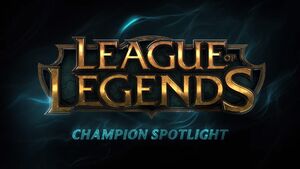 Champion Spotlights are a series of videos created by a
Web Content Specialist
at
Riot Games Inc.
named
David 'Phreak' Turley
. It began as a short video and narration by Phreak in which he discusses and demonstrates skills, tactics, and strategies of a certain champion. The videos were well received by the community, and many players asked for more to be created.
He focuses on a single champion for each video, usually showing times where people are usually likely to succeed or fail. He reviews each skill and the passive, demonstrates where they are useful, and why he uses them in the manner he displays. Some videos have included one of the character developers to explain more in-depth about how they designed the character to be used.
While the videos have been an initial success, there have been come complaints about old videos kept on site or on YouTube. Many of the characters reviewed by Phreak have undergone buffs, nerfs, or even complete character overhauls. This causes some of the videos to be misleading.
Riot's page on the videos can be found here and on their YouTube channel.
List of Champion Spotlights
Out of the 133 released Champions, 118 have a Champion Spotlight, with
 Ezreal,
 Garen,
 Karma,
 Lee Sin,
 Sejuani,
 Shen,
 Sivir,
 Trundle, and
 Yorick having 2:
| Champion | Link | Date | Notes on Accuracy |
| --- | --- | --- | --- |
|  Ezreal | Champion spotlight | Mar. 18, 2010 | Inaccurate, superseded |
|  Shen | Champion spotlight | Apr. 2, 2010 | Inaccurate, superseded |
|  Pantheon | Champion spotlight | Apr. 7, 2010 | Mildly accurate |
|  Kennen | Champion spotlight | Apr. 16, 2010 | Mostly accurate |
|  Anivia | Champion spotlight | Apr. 22, 2010 | Mostly accurate |
|  Garen | Champion spotlight | Apr. 23, 2010 | Mostly accurate, but superseded |
|  Sivir | Champion spotlight | Apr. 30, 2010 | Inaccurate, superseded |
|  Udyr | Champion spotlight | May 7, 2010 | Mostly accurate |
|  Akali | Champion spotlight | May 10, 2010 | Mostly accurate |
|  Malzahar | Champion spotlight | May 31, 2010 | Fully accurate |
|  Olaf | Champion spotlight | June 7, 2010 | Mildly accurate |
|  Twisted Fate | Champion spotlight | June 14, 2010 | Mildly accurate |
|  Kog'Maw | Champion spotlight | June 23, 2010 | Inaccurate |
|  Heimerdinger | Champion spotlight | June 28, 2010 | Mildly accurate |
|  Xin Zhao | Champion spotlight | July 9, 2010 | Mildly accurate |
|  Vladimir | Champion spotlight | July 26, 2010 | Mostly accurate |
|  Galio | Champion spotlight | Aug. 9, 2010 | Mostly accurate |
|  Urgot | Champion spotlight | Aug. 23, 2010 | Fully accurate |
|  Miss Fortune | Champion spotlight | Sep. 7, 2010 | Inaccurate |
|  Sona | Champion spotlight | Sep. 20, 2010 | Mildly accurate |
|  Swain | Champion spotlight | Oct. 4, 2010 | Mildly accurate |
|  Lux | Champion spotlight | Oct. 18, 2010 | Fully accurate |
|  LeBlanc | Champion spotlight | Nov. 1, 2010 | Mostly accurate. |
|  Irelia | Champion spotlight | Nov. 15, 2010 | Mildly accurate |
|  Trundle | Champion spotlight | Nov. 30, 2010 | Inaccurate, superseded |
|  Cassiopeia | Champion spotlight | Dec. 13, 2010 | Mostly accurate |
|  Caitlyn | Champion spotlight | Jan. 3, 2011 | Mostly accurate |
|  Renekton | Champion spotlight | Jan. 17, 2011 | Mildy accurate |
|  Karma | Champion spotlight | Jan. 31, 2011 | Inaccurate, superseded |
|  Maokai | Champion spotlight | Feb. 16, 2011 | Fully accurate |
|  Jarvan IV | Champion spotlight | Feb. 28, 2011 | Mostly accurate |
|  Nocturne | Champion spotlight | Mar. 14, 2011 | Mostly accurate |
|  Lee Sin | Champion spotlight | Mar. 28, 2011 | Inaccurate; April Fools champion spotlight, superseded |
|  Lee Sin | Champion spotlight | Mar. 31, 2011 | Mostly accurate |
|  Brand | Champion spotlight | Apr. 11, 2011 | Fully accurate |
|  Rumble | Champion spotlight | Apr. 25, 2011 | Mostly accurate |
|  Vayne | Champion spotlight | May 9, 2011 | Mostly accurate |
|  Orianna | Champion spotlight | May 31, 2011 | Mostly accurate |
|  Yorick | Champion spotlight | June 23, 2011 | Inaccurate, superseded |
|  Leona | Champion spotlight | July 6, 2011 | Fully accurate |
|  Kayle | Champion spotlight | July 22, 2011 | Fully accurate |
|  Wukong | Champion spotlight | July 25, 2011 | Fully accurate |
|  Tryndamere | Champion spotlight | Aug. 3, 2011 | Fully accurate |
|  Skarner | Champion spotlight | Aug. 9, 2011 | Inaccurate |
|  Blitzcrank | Champion spotlight | Aug. 15, 2011 | Mostly accurate |
|  Talon | Champion spotlight | Aug. 23, 2011 | Mostly accurate |
|  Corki | Champion spotlight | Sep. 7, 2011 | Mildy accurate |
|  Riven | Champion spotlight | Sep. 14, 2011 | Fully accurate |
|  Singed | Champion spotlight | Sep. 23, 2011 | Mostly accurate |
|  Xerath | Champion spotlight | Oct. 4, 2011 | Inaccurate |
|  Teemo | Champion spotlight | Oct. 10, 2011 | Mildy accurate |
|  Graves | Champion spotlight | Oct. 18, 2011 | Inaccurate |
|  Fiddlesticks | Champion spotlight | Oct. 26, 2011 | Fully accurate |
|  Shyvana | Champion spotlight | Nov. 1, 2011 | Fully accurate |
|  Shaco | Champion spotlight | Nov. 8, 2011 | Mostly accurate |
|  Fizz | Champion spotlight | Nov. 14, 2011 | Mostly accurate |
|  Volibear | Champion spotlight | Nov. 28, 2011 | Fully accurate |
|  Cho'Gath | Champion spotlight | Dec. 2, 2011 | Fully accurate |
|  Gangplank | Champion spotlight | Dec. 12, 2011 | Mildy accurate, superseded |
|  Ahri | Champion spotlight | Dec. 14, 2011 | Mostly accurate |
|  Rammus | Champion spotlight | Dec. 20, 2011 | Fully accurate |
|  Viktor | Champion spotlight | Dec. 28, 2011 | Inaccurate |
|  Jax | Champion spotlight | Jan. 11, 2012 | Fully accurate |
|  Sejuani | Champion spotlight | Jan. 16, 2012 | Inaccurate, superseded |
|  Sivir | Champion spotlight | Jan. 23, 2012 | Mildly accurate |
|  Ziggs | Champion spotlight | Feb. 1, 2012 | Fully accurate |
|  Nautilus | Champion spotlight | Feb. 13, 2012 | Fully accurate |
|  Fiora | Champion spotlight | Feb. 28, 2012 | Fully accurate |
|  Lulu | Champion spotlight | Mar. 19, 2012 | Fully accurate |
|  Hecarim | Champion spotlight | Apr. 17, 2012 | Fully accurate |
|  Varus | Champion spotlight | May 7, 2012 | Fully accurate |
|  Darius | Champion spotlight | May 22, 2012 | Mostly accurate |
|  Draven | Champion spotlight | June 4, 2012 | Mostly accurate |
|  Ezreal | Champion spotlight | June 29, 2012 | Fully accurate |
|  Jayce | Champion spotlight | July 6, 2012 | Mostly accurate |
|  Evelynn | Champion spotlight | July 16, 2012 | Fully accurate |
|  Twitch | Champion spotlight | July 17, 2012 | Fully accurate |
|  Zyra | Champion spotlight | July 23, 2012 | Fully accurate |
|  Diana | Champion spotlight | Aug. 6, 2012 | Fully accurate |
|  Katarina | Champion spotlight | Aug. 15, 2012 | Mildly accurate |
|  Rengar | Champion spotlight | Aug. 23, 2012 | Mostly accurate |
|  Syndra | Champion spotlight | Sep. 12, 2012 | Fully accurate |
|  Kha'Zix | Champion spotlight | Sep. 26,2012 | Mostly accurate |
|  Soraka | Champion spotlight | Sep. 26, 2012 | Inaccurate |
|  Elise | Champion spotlight | Oct. 25, 2012 | Fully accurate |
|  Zed | Champion spotlight | Nov. 12, 2012 | Fully accurate |
|  Nami | Champion spotlight | Dec. 6, 2012 | Fully accurate |
|  Nidalee | Champion spotlight | Dec. 12, 2012 | Mostly accurate |
|  Vi | Champion spotlight | Dec. 18, 2012 | Fully accurate |
|  Thresh | Champion spotlight | Jan. 22, 2013 | Mostly accurate |
|  Quinn | Champion spotlight | Feb. 28, 2013 | Fully accurate |
|  Zac | Champion spotlight | Mar. 28, 2013 | Fully accurate |
|  Karma | Champion spotlight | Mar. 28, 2013 | Mostly accurate |
|  Sejuani | Champion spotlight | Apr. 28, 2013 | Fully accurate |
|  Trundle | Champion spotlight | Apr. 29, 2013 | Fully accurate |
|  Lissandra | Champion spotlight | Apr. 29, 2013 | Fully accurate |
|  Ashe | Champion spotlight | May 13, 2013 | Inaccurate |
|  Aatrox | Champion spotlight | June 11, 2013 | Fully accurate |
|  Master Yi | Champion spotlight | July 31, 2013 | Fully accurate |
|  Lucian | Champion spotlight | Aug. 21, 2013 | Fully accurate |
|  Garen | Champion spotlight | Sep. 30, 2013 | Mostly accurate |
|  Jinx | Champion spotlight | Oct. 9, 2013 | Fully accurate |
|  Yasuo | Champion spotlight | Dec. 11, 2013 | Fully accurate |
|  Vel'Koz | Champion spotlight | Feb. 25, 2014 | Fully accurate |
|  Braum | Champion spotlight | May 12, 2014 | Fully accurate |
|  Karthus | Champion spotlight | June 13, 2014 | Fully accurate |
|  Gnar | Champion spotlight | Aug. 12, 2014 | Fully accurate |
|  Azir | Champion spotlight | Sep. 15, 2014 | Fully accurate |
|  Sion | Champion spotlight | Oct. 6, 2014 | Fully accurate |
|  Kalista | Champion spotlight | Nov. 19, 2014 | Fully accurate |
|  Rek'Sai | Champion spotlight | Dec. 10, 2014 | Fully accurate |
|  Tristana | Champion spotlight | Jan. 30, 2015 | Fully accurate |
|  Bard | Champion spotlight | Mar. 11, 2015 | Fully accurate |
|  Ekko | Champion spotlight | May 27, 2015 | Fully accurate |
|  Tahm Kench | Champion spotlight | July 8, 2015 | Fully accurate |
|  Gangplank | Champion spotlight | July 20, 2015 | Fully accurate |
|  Kindred | Champion spotlight | Oct. 5, 2015 | Fully accurate |
|  Illaoi | Champion spotlight | Nov. 23, 2015 | Fully accurate |
|  Poppy | Champion spotlight | Dec. 7, 2015 | Fully accurate |
|  Shen | Champion spotlight | Jan. 25, 2016 | Fully accurate |
|  Jhin | Champion spotlight | Jan. 31, 2016 | Fully accurate |
|  Aurelion Sol | Champion spotlight | Mar. 23, 2016 | Fully accurate |
|  Taric | Champion spotlight | Apr. 18, 2016 | Fully accurate |
|  Taliyah | Champion spotlight | May 17, 2016 | Fully accurate |
|  Ryze | Champion spotlight | Jul. 12, 2016 | Fully accurate |
|  Kled | Champion spotlight | Aug. 8, 2016 | Fully accurate |
|  Yorick | Champion spotlight | Sep. 6, 2016 | Fully accurate |
|  Ivern | Champion spotlight | Oct. 3, 2016 | Fully accurate |
Champions without Spotlights