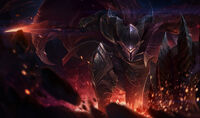 Champion skin
(or just
skin
) refers to the color scheme or appearance of a champion. In
League of Legends
, most skins can be bought from the
Riot Store
with
Riot Points
, while others are or were available only from special events or promotions. Some of the skins in League of Legends also give champions different particle effects, quotes, and sound effects. Every skin has its own splash art that is displayed in champion select by clicking on the thumbnail after selection.
To see all current and old splash arts, visit this gallery. Additionally, you can see the splash arts, along with the Chinese ones and a link to a 3D model of each skin by going to the Skins & Trivia sub page of each champion. Other ways to access these pages are to just search for the champion name on our search bar and add "Skins" after the name; or you could click any of the links below which contain the names of skins.
Skin Pricing
Skins that are/were purchasable in the store usually come in 7 different price tags:
 390,
 520,
 750,
 975,
 1350,
 1820, or
 3250. A skin's price reflects the amount of work put into a specific skin. The higher the price, the more work can be seen in a champion's effect particles, voice, quotes (e.g.
 Gentleman Cho'Gath), and model while using that skin. At this time, Riot has only given the highest two tiers of skins a official category name.
The skins tagged with the 1820 price are called Legendary Skins. These skins usually affect the champion in more meaningful ways than just changes in appearance. As an example,
Lion Dance Kog'Maw will make him shoot out fireworks for his skills, instead of the normal projectiles.
The "special effect rule" however isn't always true, especially for older legendary skins, where only the model was changed; those skins still had far more work put into them than the others at that time.
Skins that receive even more work than a what a Legendary skin requires are Ultimate skins. At the moment there are only two skins in the category:
Pulsefire Ezreal and
Spirit Guard Udyr. Ultimate skins, along with their unique appearance, quotes and improved model, comes with a couple extra bonuses - a special summoner icon (or icons) and a profile banner. Therefore, these skins have the highest price yet, and cost 3250 RP.
Twice a week, a selection of skins are put on sale for 50% or 75% off the original price. However, Ultimate and Legendary skins never go on sale. Because of this, the price of an Ultimate or Legendary skin is discounted for the first few days when it is released. The current discounts are available on the Main Page.
Available Skins
This page lists all champion skins that are available in the PvP.net store and skins that can be unlocked by meeting special requirements.
Bundled Skins
These two skins are available only through the digital bundles offered from the client store.
As of June 3rd 2013, RiotGames implemented flexible cost bundles where it will adjust its cost for content you already own. They also permanently removed the Gamer's Choice Pack and
 Huntress Sivir was included in the Champions Bundle.[1]
Unlockable Skins
These skins can be unlocked to summoners that meet the requirements.
Collector's Edition (retail)
These skins are offered through retail products:
This skin is offered with a retail copy of League of Legends Collector's Edition:
This skin is offered through retail merchandise:
Unreleased Skins
Upcoming
The following new skins have been added to the PBE:
Hints
Cancelled and Remade Skins
The following skins can no longer be purchased because they were seasonal event skins or were removed from the store.
Legacy Skins
Legacy Skins are either skins that Riot has retired, seasonal skins, or special event skins that have been removed from the League of Legends Store and placed in Riot's Vault. Some, but not necessarily all, Legacy Skins will be re-released from the Vault for limited runs in the League of Legends Store. These skins only appear in the champion's information tab if you own them.
Championship Skins
These skins were released for a limited time during the Seasons 2, 3 and 4 Championship World Final.
Championship Riven is a limited edition skin while
Championship Thresh and
Championship Shyvana are classed as legacy skins and as such may return in the future.
Holiday Skins
Harrowing
Snowdown Showdown
Lunar Revel
Note:  Lunar Goddess Diana of 2014, as well as Lunar Revel skins from previous years, are permanent holiday skins.
These skins were available during the Lunar Revel event of 2014 and removed at the end as "legacy" skins. As such, they may return in the future:
Retired
The following classical skins have been retired and are no longer purchasable from the store. They have been made "Legacy Skins", and as such may return in the future:
Riot Skins
| Skin Name | Event |
| --- | --- |
| Riot K-9 Nasus | Gamescom 2011, PAX Prime 2011, Buena Park Meet-Up, and Gamescom 2012 |
| Riot Graves | Gamescom 2012, PAX Prime 2012 and future events |
| Riot Blitzcrank | Gamescom 2013, PAX Prime 2013 and future events |
| Riot Kayle | Gamescom 2014, PAX Prime 2014 and future events |
Shadow Isles
The following skins were released along with the remake of the Twisted Treeline as "Legacy Skins", and as such may return in the future:
Skin Name
Cost
Availability
Headless Hecarim

975

26-Oct-2012 - 13-Nov-2012

29-Oct-2013 - 12-Nov-2013

24-Oct-2014 - 04-Nov-2014

Haunted Maokai

975

26-Oct-2012 - 13-Nov-2012

29-Oct-2013 - 12-Nov-2013

24-Oct-2014 - 04-Nov-2014

Underworld Twisted Fate

975

26-Oct-2012 - 13-Nov-2012

29-Oct-2013 - 12-Nov-2013

24-Oct-2014 - 04-Nov-2014
Traditional Skins
These skins are a tribute to a champion that underwent a significant visual upgrade to remember their old aesthetic look. They were released with the Champion's relaunch and were free for owners that had owned the champion before hand. If the champion was not previously owned it was put on sale for two weeks before being retired to the Legacy Vault.
World Final commemorative Skins
These skins are created to commemorate the winning team of a Season's Championship World Final. They first appeared after the season 2 Championship with the victorious team of the Taipei Assassins. They usually run for a limited period in the store before being removed and placed in the Legacy vault for later runs in the future.
For Season 4 World Championship, the TPA and SKT T1 skins were back in the store from 17-Sep-2014 for a limited time.
World Game Events
Limited Edition Skins
Limited edition Skins were skins available from the League of Legends store during seasonal or special events and purchasable for a certain duration and then were removed once the event was over. They'd only appear in the champion's information tab if you own them.
Originally, limited edition skins were not to be released from the vault for further purchasing to retain their value to the players that owned them. Though in 2013, Riot announced that certain limited edition skins will be put back on sale for a short time between October 2013 and June 2014. These re-released skins include those from major events in the years 2009 to 2011: the Harrowing, Snowdown Showdown, the Winter Olympics and the World Cup. These champion skins were then moved to the legacy vault and may be released again from time to time.
In order to provide compensation to players who already owned the previously limited edition skins, those players received the following benefits:
A unique summoner icon.
RP equal to the original purchase price of any limited edition skins owned.
The loading-screen splash art for any limited edition skins will be overlayed with a "vintage" look.
It is important to note that skins rewarded for participating in the beta or attending certain events such as PAX will not be made available.
The following champion skins are categorized as limited edition or have been said by Riot to have no plans of being available again:
Championship Riven
This skin was released during the season 2 Championship World Final as a limited edition skin.[12] It was not affected by the re-releasing of other announced limited edition skins and could no longer be purchased once it was later removed from the store.
Closed Beta
Collector's Edition Skins
These skins were offered through retail products or by digital orders:
| Skin Name | Retail |
| --- | --- |
| UFO Corki | IGN and Gamespy Reader's Choice 2009 |
These two pre-order exclusive skins were no longer available after October 26, 2009
PAX Skins
These skins were offered at PAX events 2009-2011, but are no longer available:
Miscellaneous
| Skin Name | Cost | Release Date | Removal Date |
| --- | --- | --- | --- |
| Rusty Blitzcrank[14] | 520 | 20-Nov-2009 | 17-Jan-2010 |
| Urf the Manatee | 50/500/5000 | 01-Apr-2010 | 14-Apr-2010 |
Riot Singed
| Skin Name | Event |
| --- | --- |
| Riot Squad Singed | PAX East & Prime 2010, Gamescom 2010, CeBiT 2011, EPS 2011, Siggraph 2011 |
Veteran
Victorious Skins
These skins were awarded to ranked players at the end of a season:
Linked Skins
Skins Sale Archive
This page is a record of the past skins that have been on sale before: Skins Sale Archive.
List of Skins
References
External links
|}