Champions Bundle
Comments

88
1,672pages on
this wiki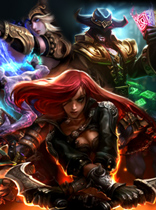 The Champions Bundle is a way to get a pack of 20 champions in exchange for one lump sum of
3410.
This bundle does not come with any skins, runes or Riot Points.
Champions released weekly on and after patch V1.0.0.61 are not included in any bundle.
The price of the pack is not reduced, and there is no refund of RP or IP, if you already have one or more champions in the bundle. It is not economical to get it once you have a certain percentage of the champions or if there are not enough champions you are interested in playing that you do not already have.
Here are the following champions in the bundle, along with their individual IP/RP cost: