Urgent incoming transmission
By Recon Team [1]
::: URGENT! FOR IMMEDIATE REVIEW AND ANALYSIS :::
--- Found recording enclosed. Begin audio analysis ---
--- Audio file reveals unknown audible
 construct [S|L] signature. Nature of construct unknown ---
--- All personnel on high alert ---
--- Please report all unusual activity or sightings ---
END TRANSMISSION.
Battlecast Prime Cho'Gath Sighted!
By NeeksNaman [2]
Warning! This mechanical menace has been sighted stomping through nearby cities and battlefields, crushing anyone and everything in his destructive path! Metal is, indeed, perfection.
 Battlecast Prime Cho'Gath [S|L] will be available soon for the Legendary Skin price of
 1820.
Media
Battlecast Prime Cho'Gath's Theme
Related Music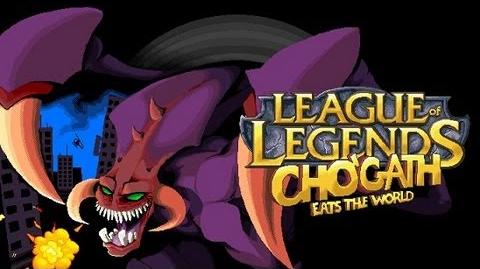 Related Videos
References
References