Champion Spotlight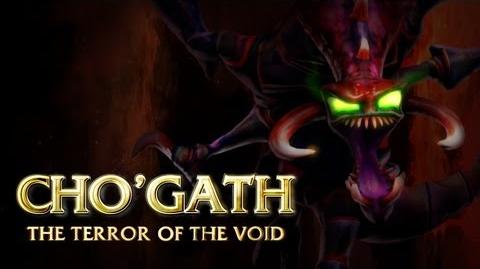 Recommended Items
Tips
Playing As
Try to line up your attacks with
so that they kill minions and harass enemy champions at the same time.
If you're having difficulty
ing upon champions, try eating minions until you're larger.
Using
on creeps in combination with is a good way to gain Health and Mana.
Playing Against
Purchasing a few HP items decreases the chances of Cho'Gath killing you quickly.
Focus on preventing Cho'Gath from
, or obtaining it again after you've killed him.
has a smoke cloud indicating the area it will strike. Try to watch out for it to prevent Cho'Gath from being able to combo his abilities.
Tricks
Ability Usage
Mastery Usage
Item Usage
Countering
References
Ad blocker interference detected!
Wikia is a free-to-use site that makes money from advertising. We have a modified experience for viewers using ad blockers

Wikia is not accessible if you've made further modifications. Remove the custom ad blocker rule(s) and the page will load as expected.