Skill usage
Edit
Build usage
Edit
Recommended builds
Edit
Summoner's Rift




recommended items

Starting
Essential
Offensive
Defensive
Consumables
The Howling Abyss




recommended items

Starting

2

2

Essential
Offensive
Defensive
Consumables
The Crystal Scar




recommended items

Starting

2

Essential
Offensive
Defensive
Consumables
The Twisted Treeline




recommended items

Starting
Essential
Offensive
Defensive
Consumables
Countering
Edit
Try to zone  Cho'Gath when he is low on health/mana from getting last hits, to prevent effective use of  Carnivore. It may force him to push the lane because all his ranged attacks deal area of effect damage. However, if left alone he would quickly heal up. This, combined with his low mobility, encourages you to call for a gank and commit to killing him instead of harassment.
 Cho'Gath's  Rupture is Cho'Gath's strongest non-ultimate ability, and it is critical to avoid it by watching for its animation. Before the spikes and the smoke appear, Cho'Gath stomps his foot on the ground. While  Cho'Gath lacks any conventional gap closers and escapes, Rupture's knock up and slow is more than enough for him to catch up or run away.

There is also a red/purple circle around  Rupture making it easier to spot and avoid.

Save your channeled spells until he uses his two CC spells. However, at max cooldown reduction Rupture's cooldown is only 5.4 seconds, and a Cho'Gath alternating between the two would be very difficult to channel against.
Build magic resistance to mitigate his damage, but know that  Feast deals true damage, not magic damage.

Also note that practically all of his abilites deal magic damage, and that his autoattacks are most greatly augmented from the bonus magic damage that  Vorpal Spikes provides. Items such as

Spirit Visage

or

Warmog's Armor

can greatly negate his ability to fight you one-on-one.
Champion Spotlight
Edit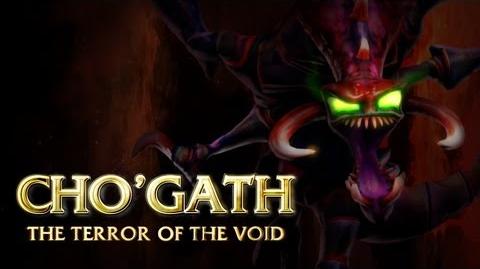 Upcoming Champions
Canceled Champions
Concept Art