Resolve Tree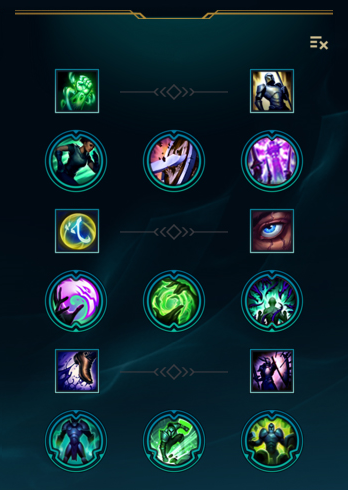 Other Mastery Trees:
Ferocity •
Cunning
Notes
"Hard CC" in this case refers to any crowd control that completely inhibits movement.
Thus, crowd controls such as slows will not trigger this mastery. Crowd control that does trigger this mastery are:

Airborne effects:
Forced Action/Movement:

The following list contains all the champions that cannot trigger through their abilities:
The crowd control does not have to be directly from the champion, as initiating a Blast Cone and knocking back enemy champions with it will count in activating Courage of the Colossus.
Patch History
Shield duration reduced to 3 seconds from 4.

New Effect:

Base shield value now applies for each nearby enemy champion.
Base shield value reduced to

3 - 54 (based on level)

from

20 - 190 (based on level)

.
Maximum health per nearby enemy champion reduced to

5%

from

7%

.
Cooldown increased to

45 - 30 (based on level)

seconds from 30.
V6.22 Added
Replaces .
Tier 6 Resolve mastery with 1 rank.

Gain a shield for

20 - 190 (based on level)

(+ 7% maximum health per nearby enemy champion) for 4 seconds after hitting an enemy champion with hard crowd control (30 second cooldown).
References
Ad blocker interference detected!
Wikia is a free-to-use site that makes money from advertising. We have a modified experience for viewers using ad blockers

Wikia is not accessible if you've made further modifications. Remove the custom ad blocker rule(s) and the page will load as expected.