Champion Spotlight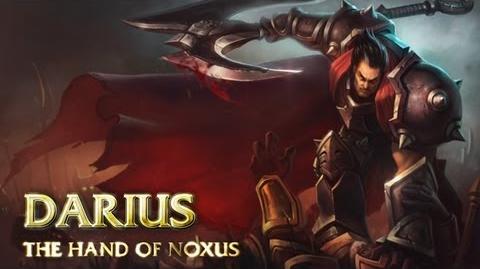 Recommended Items
Tips
Playing As  Darius
 

Decimate

is a powerful harassment ability. Strike an enemy from maximum range for the greatest effect.
 

Noxian Guillotine

does more damage the more  

attacks

you can land prior to it. Use  

Noxian Might

for maximum damage.
Darius benefits greatly from enhanced survivability. The longer you can prolong a fight, the more  

powerful

he becomes.
Playing Against  Darius
When Darius'  

axe grab

is on cooldown, he is vulnerable to harassment attacks.
Darius' ability to escape from fights is  

limited

. If you have an advantage against him, press your lead.
Tricks
Ability Usage
Mastery Usage
Item Usage
Countering
 

Decimate

deals reduced damage and does not apply  

stacks of Hemorrhage

if you are hit by the shaft. If you are cornered by him without any form of extra mobility to help you out, get very close to him in order to avoid his blade!
References