Champion Spotlight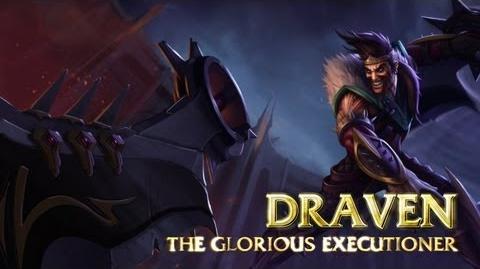 Recommended Items
Tips
Playing As
If Draven doesn't move,
will fall near his present location. It will fall directly on him, or just to the right or left.
If Draven does move after attacking,
will lead him in the direction of his movement. Use this to control where the will go.
Playing Against
Launch skillshots toward the landing position of Draven's
s.
Disrupt Draven with the goal of making him
. If you do, his power drops dramatically.
Tricks
Ability Usage
Mastery Usage
Item Usage
Countering
References
Ad blocker interference detected!
Wikia is a free-to-use site that makes money from advertising. We have a modified experience for viewers using ad blockers

Wikia is not accessible if you've made further modifications. Remove the custom ad blocker rule(s) and the page will load as expected.