Champion Spotlight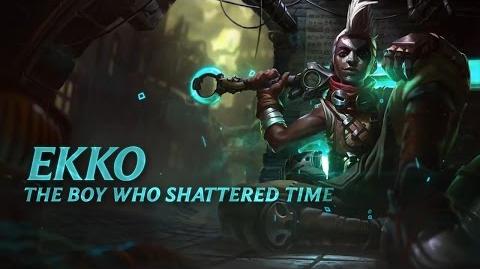 Recommended Items
Tips
Playing As
is a potent escape tool, but it can also be quite powerful when used offensively. Don't underestimate its damage potential.
If you can proc movement speed makes it easy to escape.
on an enemy champion, it's worth taking risks to do so. The bonus
's dash is a great tool for setting up Ekko's other abilities. Use it to get double hits with or get into position to detonate .
Playing Against
Ekko is significantly weaker when his
is down. Watch for the trail he leaves behind to determine if is available.
Ekko's
takes 3 seconds to arm. Watch for the image he creates on cast and try to guess where the zone was placed.
The second hit of
does more damage than the first; try to avoid it.
Tricks
Ability Usage
Mastery Usage
Item Usage
Countering
- Like many other assassins, Ekko is vulnerable to  crowd control. Snaring or stunning Ekko before he can deal heavy damage can heavily cripple his potential in teamfights.

- After using Phase Dive, Ekko is even more vulnerable to heavy CC and huge bursts. This situation will likely cause most Ekko players to burn Chronobreak just to survive the incoming burst damage.
- While Ekko is a threat on his own, His kit is to primarily for 1v1 dueling and start fights. Dodging Timewinder, or Parallel Convergence can prevent Ekko from closing in on you easily.
- Baiting Ekko in using his Parallel Convergence into heavy ambushes can be a good strategy. His stun and shield is on a long cooldown and your team can close up on him and kill him.
- When Ekko is retreating with low health and his hologram is following him, be wary. It means his Chronobreak is available and he can instantly turn the fight around with its healing and heavy AP damage.
- When your team is chasing a low health Ekko, If you notice Chronobreak is ready, Launch skillshots onto his hologram. Ekko players tend to do this rather than running away to attempt to turn the tables. Its better if it is a heavy CC. Your team can catch up and kill him.
References
Ad blocker interference detected!
Wikia is a free-to-use site that makes money from advertising. We have a modified experience for viewers using ad blockers

Wikia is not accessible if you've made further modifications. Remove the custom ad blocker rule(s) and the page will load as expected.