"Submit to my designs."

Use the info here with consideration. It might be outdated or biased info.
Gameplay
By NeeksNaman [1]
This patch, we'll welcome a champion with a lot of history into the League of Legends lineup: Elise, the Spider Queen. Originally
 concepted over three years ago, Elise proved to be a challenging champion to fully realize. Finally coming together as a transform champion, Elise has the ability to assume the form of either a regal mage or a deadly spider assassin.
Like all transform champions, successfully playing
 Elise involves balancing two distinct kits. More than any of her counterparts, however, the Spider Queen's two forms embody distinct, but complimentary roles. Unlike
 Jayce, whose kit emphasizes flowing smoothly between
 ranged and
 melee skillsets, or
 Nidalee, who uses her
 cougar mobility to split push and create distance for her
 long ranged attacks, Elise's two ability sets separate definitively into mage and assassin roles.
In her
 human mage form, Elise specializes in keeping her distance using low-cooldown nukes and crowd control abilities. Her spells emphasize wearing down high-health targets in preparation for a brutal finish in spider form. At the heart of this gameplay is
 Neurotoxin which deals damage based on the opponent's current health. While in this form, she also generates a
 spiderling each time she casts a spell. Upon
 transformation into a spider, she summons these
 spiderlings to fight alongside her. Investing the time to build up your minion count is essential to performing a perfect assassination.
Once she's switched to her
 spider assassin form, Elise's kit takes on an entirely different theme. She gains a number of bonuses to her melee capabilities, and her
 spiderlings become active to help rapidly damage an opponent. Using
 Rappel, she can ascend above the battlefield, vanishing from sight and becoming untargetable for a short duration. Once she's suspended, she can lower herself upon a nearby target, surrounding them with
 spiderlings. Boosting her minions' Attack Speed with
 Skittering Frenzy can quickly burst down a surrounded enemy, leaving them vulnerable to execution with
 Venomous Bite.
Using both spider and human form effectively is the key to making the most out of the Spider Queen. Having the good judgment to stay safe in your mage form while you fight to create the opportunity for a clean spider kill will make or break your success on the Fields of Justice.
Champion Spotlight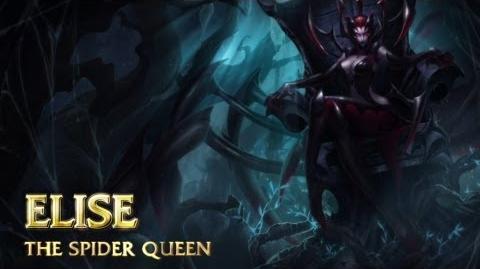 Recommended Items
Tips
Playing As  Elise
Playing Against  Elise
Elise's  

Spider Form

is more dangerous when you are at low health, and her  Human Form more potent when you are at high health.
 

Rappel

will only move Elise straight up and down unless she can descend upon an enemy unit.
 

Rappel

has a long cooldown. Elise is vulnerable after she has used it.
Tricks
Ability Usage
 

Spider Form

is most effective at finishing off enemies with low health;  

Human Form's

 

Neurotoxin

does more damage to healthy foes.
Using  

Neurotoxin

followed by  

Volatile Spiderling

and then switching forms to use  

Skittering Frenzy

to deal some more damage and, finally,  

Venomous Bite

is very effective.
Use  

Spider Form

when escaping, as being in this form grants you a small bonus movement speed amount, your  Spiderlings will trail behind and possibly block skillshots, and you can use this form's  

Venomous Bite

and  

Rappel

to gap close away to enemy minions or neutral monsters.
 

Venomous Bite

 will still cause you to dash to the target if it dies during the cast time, but the spell will not go on cooldown.
 

Venomous Bite

will cause  Elise's  Spiderlings to leap to the target.
Use  

Spider Form

to get back to lane faster, as it gives bonus movement speed.
 

Rappel

can not see stealthed champions, however it can see those in brush, when suspended in the air.
 

Rappel

can be used to get over terrain, as long as  Elise can find a target.

Example:

 

Rappel

behind  Blue Sentinel's wall to grant vision and cast again to descend on it.
This can be greatly used to steal neutral monsters and objectives such as  Baron Nashor or  Dragon if positioned correctly.

 

Rappel

, when used at the right moment can dodge projectiles and delayed AoE spells like  

Enchanted Crystal Arrow

,  

Trueshot Barrage

,  

Requiem

,  

Absolute Zero

,  

Time Bomb

,  

Dark Matter

,  

Explosive Cask

and  

Ace in the Hole

.
 Elise is a surprisingly effective pusher and counter jungler due to her  Spiderlings and attack speed steroid. Use  

Spider Form

to take enemy jungle camps, towers, and other structures when the opportunity presents itself.
Mastery Usage
Item Usage
Elise has fairly low AP scalings but good base damage. So it's often better to focus on cooldown reduction for better damage, or tankiness so you can stay in combat longer.

Due to  

Neurotoxin

/ 

Venomous Bite

dealing % current/missing health damage, Magic penetration is almost certainly the most important offensive stat to build with Elise, making , , and, late-game, a core items in any offensive Elise build.

An On-hit build ( 

Skittering Frenzy

is a very large attack speed boost. However doing this makes her human form less effective.
 and/or  ) also works very well as her spider form grants bonus magic damage, and her 
 Elise, as it grants some damage after every spell.
 is an effective item for
 

Rappel

. The  Spiderlings aren't affected by the active, so they can inflict some extra damage during the stasis.
is another defensive item which gives you more damage. Also its active ability can save you in difficult situations, synergizing well with the short time of disappearance from your
Due to how spammable her abilities can be late game, building

This synergizes very well with 
.

on her would allow you to constantly slow your enemies especially in human form and increase your chances of survivability.
If you find yourself constantly running low on health, try purchasing Omnivore item (i.e. / ) as this will increase the health you regain from  

Skittering Frenzy

.
 and an
Countering
References
Upcoming Champions
Canceled Champions