Emotes are expressive images primarily used in League of Legends as cosmetic flares. League emotes typically present champions with popular expressed emotions. Some emotes are used in-game, while some on social media sites.
Usage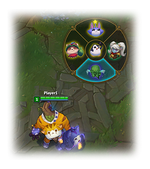 You can purchase Emotes in the store for

450 a piece. During the initial launch, all Emotes were put on sale for

350. A Thumbs Up Emote is freely unlocked to all accounts.
Emotes can be equipped in the player's Collection or from Champion Select. The loadout includes a radial that can hold up to five emotes, as well as slots for Start Game and End Game.
Once in-game, you can access the pop-up radial using the assigned hotkey (default: [T]). The Start Game and End Game emotes will trigger automatically. [1] Players can only trigger a certain number of Emotes, including Champion Mastery Emotes, within a short space of time before having to wait to use another. Champion Mastery is still triggered using its own hotkey.
You can mute Enemy Emotes individually from the Scoreboard, or disable them entirely from Settings.
Emotes
Available In Store
Leveling Emotes
These emotes are given to players reaching certain summoner levels.
Unknown Availability
The availability of these Emotes is currently unknown.
Legacy Emotes
General
These emotes are available during the Essence Emporium.
Rewards
Former System
The following Emotes were released prior to the implementation of the Emote system (described above). These icons were tied to having specific Summoner icons equipped, their use was limited to the duration of the event in which they were introduced, and they replaced the Champion Mastery flare. Should these Emotes return in the future, they will be incorporated into the new system and will be freely gifted to players who previously earned them.
Social Media Emotes
Facebook Emotes
These were released as chat emotes for Facebook, and as such are primarily used on that site
League of Legends Boards Emotes
These emotes were released for usage on the League of Legends Community Boards and are primarily used on that site.
These emotes were released for usage on the League of Legends Community Boards for the 2016 Harrowing event and are primarily used on that site.
These emotes were released for usage on the League of Legends Community Boards for the 2017 Star Guardian event and are primarily used on that site.
Masquerade
These Icons were made specifically to celebrate the Masquerade event of 2015 and 2016, an event celebrated on the Latin American and Brazilian servers. These Icons are available to download via this link and this.
FAQs
Frequently Asked Questions
Are any old emotes coming back?
Not right away, but we'll be on the lookout for ways to bring back emotes from past events (like Arcade or Versus). We don't plan to bring back any Esports emotes. If we bring back an emote that you've already earned, we'll gift it to you.
Can I gift emotes?
Not right now, but hopefully in the future.
Will emotes be added to loot?
Not yet, but we'll add them eventually.
How do I mute emotes?
There are two ways to mute emotes. You can mute all enemy emotes in the in-game settings menu, or mute individual player emotes through the scoreboard.
Will muting emotes also mute the champion mastery emote?
Yes. Champion mastery emotes are now part of the emotes system, so they follow all the same rules.
My emotes don't work after I've used a few. What's up with that?
Emotes will go on cooldown if overused, or if your emote is interrupted by taking damage. We may adjust the length of these cooldowns in the future. Emotes also don't work in custom matches or on the Practice Tool.
Are all emotes going to be 350 RP?
They'll launch at 350 RP, but they'll return to their normal price of 450 RP a month after release (October 24 for OCE, Nov. 7 everywhere else).
Are Worlds emotes permanent?
Yeah!
Will there be more emotes bundles?
Yes! We plan to create more emotes bundles some time after launch.
(OCE only) I bought the individual emotes in the bundle before the bundle came out. Refund please!
Since bundles weren't immediately available in OCE, we'll refund the difference between the price and what you paid by November 11 at 12:59 PM PT.
Emotes in the bundle cost about 131 RP each (that's a 70% savings off the 450 RP price). So partial refunds look like this:
If you bought You paid Your refund 0 emotes Nothing. You didn't buy anything. Still nothing. Don't troll. 1 emote 350 RP 219 RP 2 emotes 700 RP 438 RP 3 emotes 1050 RP 657 RP 4 emotes 1400 RP 876 RP If you own all four emotes, your Emote Starter Set price is 451 RP and we'll give you a refund of 876 RP
Only the emotes included in the bundle (Clean, Does Not Compute, Despair, and Scout-Approved) will be discounted. Any emotes purchased after the bundle becomes available won't qualify for this discount.
References