Champion Spotlight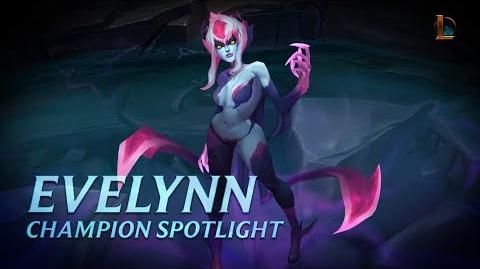 Recommended Items
Tips
Playing As
While
, pay attention to when you are (near) being detected by enemy champions. This is identified by the glowing yellow and red eyes over nearby enemy champions.
Try to use
after your opponents have used up their slows.
Evelynn can be built focusing on either Attack Damage which provides more sustained damage or Ability Power which provides more burst damage. A balance of both may be ideal.
Playing Against
Purchasing
s can help you detect Evelynn's location in order to prepare for her .
Evelynn is vulnerable to slows once she uses her Movement Speed boost,
.
If you suspect Evelynn is about to
one of your teammates, let them know by pinging the minimap and typing in chat.
Tricks
Ability Usage
Mastery Usage
Item Usage
Countering
References
Ad blocker interference detected!
Wikia is a free-to-use site that makes money from advertising. We have a modified experience for viewers using ad blockers

Wikia is not accessible if you've made further modifications. Remove the custom ad blocker rule(s) and the page will load as expected.