Skill usage
Edit
 Evelynn is an effective roamer. Use  Shadow Walk to scout out and surprise enemy champions that overextend and possibly get a kill. This is most effective early game. By roaming, this allows your solo laner to farm minions while keeping the enemy solo back and losing them gold and experience.
 Evelynn can excel at pushing a lane and jungling by spamming  Hate Spike. Try to stand so it hits many creeps.
Level up  Ravage first for an AD/On-hit build and  Hate Spike first for an AP build.
Use  Ravage on a nearby minion when attacking a tower.
 Evelynn is a good partner for  Maokai or  Kassadin. Her  Hate Spike will help to proc  Maokai's  Sap Magic and  Kassadin's  Force Pulse. On the other hand, she is ineffective against either of them, for the same reason.
Your  Shadow Walk can be easily neutralized by

Vision Wards

early game. Don't be too hasty in attacking early. Take your time, scope out the battle before joining and use your element of surprise to your advantage.
Use  Dark Frenzy to return to and move among lanes faster. Be careful using this before a gank in case you need it to escape.
With a maxed out  Ravage attack speed boost, you need a 94.66% boost to reach the cap.
 Evelynn is a great scout as she can walk past regular

Sight Wards

without being seen. Be wary of

Vision Wards

, as their true sight can detect stealth units.
Since  Agony's Embrace is based on the current health of the enemy and has no minimum damage, avoid using it on low-health opponents. The damage will be incredibly low.
For that reason, if you are going to use  Agony's Embrace, always initiate with it, so you do the most damage, before your opponent's health is down.
Build usage
Edit
Recommended builds
Edit
Summoner's Rift




recommended items

Starting

5

Essential
Offensive
Defensive
Consumables
The Howling Abyss




recommended items

Starting

2

2

Essential
Offensive
Defensive
Consumables
The Crystal Scar




recommended items

Starting

3

Essential
Offensive
Defensive
Consumables
The Twisted Treeline




recommended items

Starting
Essential
Offensive
Defensive
Consumables
Countering
Edit
Always look out for  Evelynn in your lane. Because of her stealth, she can easily sneak behind unsuspecting players who are overextended. Be aware that her movement speed boost can make her very surprising.
You can protect your lane by purchasing

Vision Ward

s and placing them in the river. Be careful if using

Sight Ward

s as if she comes into your brush already stealthed, you will not be able to see her until she unstealths, and that may be too late.
Evelynn can be built with either Ability Power, Attack Damage or even a mix of both. Pay attention to the way she builds to better decide what defensive items you should buy. However, she still deals a lot of magic damage even with an Attack Damage build, so Magic Resistance is rarely a bad option against her.
If Evelynn is building AD, she has a very weak early and mediocre mid, but trades for extremely high damage late game. If you are a squishy champ, stay behind tanks and try to focus her down.
Evelynn's stealth is lost when she takes damage. Harrassing her grealty reduces her sneaking ability.
If you think Evelynn is near, use skill or AoE spells (Like a  Ziggs's  Bouncing Bomb or  Ezreal's  Mystic Shot) in her direction. If they hit it will disable her passive and reveal her.
Champion Spotlight
Edit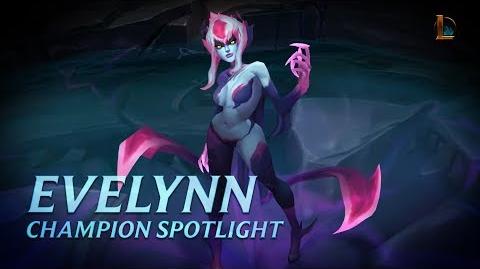 Upcoming Champions
Canceled Champions
Concept Art