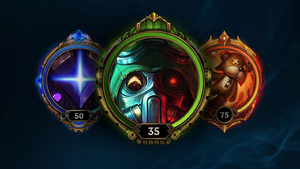 League of Legends uses a level system to reflect how experienced summoners are. The level system comprises 30 levels, each represented by a number from 1 to 30. Higher numbers mean more experience. Summoners start their first game at level 1 and progress until they reach level 30 after a variable number of games (typically between 300 and 400). The level system is based on the concept of Experience Points (XP). Summoners accumulate XP by playing games. When they accumulate a certain amount of XP, they progress to the next level. The level progression finishes when the Summoner reaches level 30. Reaching this level is one of the requirements to participate in Ranked games (the others are owning 20 champions and taking part in a series of placement games).
XP values of matches
The amount of XP received for a game is determined by several rules:
Wins are worth more XP than losses.
Longer games are worth more XP.
There is both a minimum and a maximum amount of XP a player can get from a game.
Different types of games award different amounts of XP. For instance, the current (July 2011) formula for a Normal game at levels 15-19 is roughly 3m+25, where m is the number of minutes the game lasts, capped at 198. At the same levels, Intermediate Bot games subtract a 25% penalty from that formula.
XP Boosts, which can be purchased with Riot Points from the PVP.Net store, increase the XP earned. There are several types of XP boosts which increase the XP acquired in different ways.
Depending on all these factors, each game awards roughly between 50 and 300 XP, with average values around 100 XP.
Leveling up
Leveling up grants access to new game modes, summoner spells, rune slots, rune tiers, mastery points, and extras such as loot and champion masteries.
The following table describes the amount of XP required to level up and some of the game content unlocked when reaching each level.
To reach Level
XP Needed
Cumulative XP Needed
Cumulative Percentage
What is unlocked
1
0
0
0%
• 1st Mark Rune slot
• Tier 2 Runes (1 IP each)
2
88
88
0.41%
• 1st Seal Rune slot
3
92
180
0.84%
• Normal 5v5 Summoner's Rift [1]
• 1st Glyph Rune slot
4
99
279
1.30%
•
•
• 2nd Mark Rune slot
5
118
397
1.86%
• Co-op vs. AI 3v3 Twisted Treeline [1]
2nd Seal Rune slot

Hextech Crafting and Loot

6
327
724
3.38%
• ARAM 5v5 Howling Abyss [1]

•
• 2nd Glyph Rune slot
7
312
1036
4.84%
• Normal 3v3 Twisted Treeline [1]
• 3rd Mark Rune slot
8
322
1358
6.34%
•
• 3rd Seal Rune slot
9
344
1702
7.96%
• 3rd Glyph Rune slot
10
372
2074
9.70%
•
•
• 1st Quintessence Rune slot
• 85% IP given for Co-op vs. AI beginner bots [2]
11
637
2711
12.67%
• 4th Mark Rune slot
• No IP given for more than six custom games per day [2]
12
636
3347
15.65%
• 4th Seal Rune slot
13
646
3993
18.67%
• 4th Glyph Rune slot
14
663
4656
21.77%
• 5th Mark Rune slot
15
684
5340
24.97%
• 5th Seal Rune slot
• Less IP given for custom games [2]
16
709
6049
28.28%
• 5th Glyph Rune slot
17
735
6784
31.72%
• 6th Mark Rune slot
18
763
7547
35.28%
• 6th Seal Rune slot
19
793
8340
38.99%
• 6th Glyph Rune slot
20
823
9163
42.84%
• Tier 3 Runes
• 2nd Quintessence Rune slot
• 70% IP given for Co-op vs. AI beginner and 90% for AI intermediate bots [2]
21
1136
10299
48.15%
• 7th Mark Rune slot
22
1147
11446
53.51%
• 7th Seal Rune slot
23
1162
12608
58.95%
• 7th Glyph Rune slot
24
1180
13788
64.46%
• 8th Mark Rune slot
25
1201
14989
70.08%
• 8th Seal Rune slot
26
1224
16213
75.80%
• 8th Glyph Rune slot
27
1250
17463
81.64%
• 9th Mark Rune slot
28
1278
18741
87.62%
• 9th Seal Rune slot
29
1308
20049
93.73%
• 9th Glyph Rune slot
30
1340
21389
100%
• Ranked [1]
• 3rd Quintessence Rune slot
• 65% IP given for Co-op vs. AI beginner and 80% for AI intermediate bots [2]
See also