Ad blocker interference detected!
Wikia is a free-to-use site that makes money from advertising. We have a modified experience for viewers using ad blockers

Wikia is not accessible if you've made further modifications. Remove the custom ad blocker rule(s) and the page will load as expected.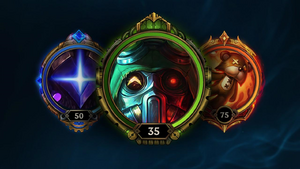 Summoner Experience is the reward, together with Influence Points, awarded to a summoner after completing a game. It ceases to be received after the Summoner's level is maxed out at 30. The received Experience Points are calculated at the end of each game; wins are worth more than losses, and the longer the game lasts, the more XP you gain.
Increasing experience gain
Summoner Experience gain can be increased by purchasing an XP Boost from the PVP.Net store. This will double the experience earned at the end of each match.
XP gains
There is both a minimum and a maximum amount of XP and IP a player can get from a game.
Current (July 2011) formula for XP winning a Normal game at level 15-19 is roughly 3m+25, where m is the number of minutes the game lasts, capped at 198. Intermediate Bot games at level 10-14 use the same formula. At level 15-19, Intermediate Bot games subtract a 25% penalty from that formula.
Leveling up (Updated)
The following describes the amount of experience required to go from one level to the next.
Leveling grants access to game modes, summoner spells, Rune slots, Rune tiers, mastery points, and extras such as loot and champion mastery.
Each level grants one additional Mastery point. This is omitted from the table below.
To reach Level
XP Needed
Cumulative XP Needed
Cumulative Percentage
What is unlocked
1
0
0
0%
• 1st Mark Rune slot
• Tier 2 Runes (1 IP each)
2
88
88
0.41%
• 1st Seal Rune slot
3
92
180
0.84%
• Normal 5v5 Summoner's Rift [1]
• 1st Glyph Rune slot
4
99
279
1.30%
•
•
• 2nd Mark Rune slot
5
118
397
1.86%
• Co-op vs. AI 3v3 Twisted Treeline [1]
2nd Seal Rune slot
6
327
724
3.38%
• ARAM 5v5 Howling Abyss [1]

•
• 2nd Glyph Rune slot
7
312
1036
4.84%
• Normal 3v3 Twisted Treeline [1]
• 3rd Mark Rune slot
8
322
1358
6.34%
•
• 3rd Seal Rune slot
9
344
1702
7.96%
• 3rd Glyph Rune slot
10
372
2074
9.70%
•
•
• 1st Quintessence Rune slot
• 85% IP given for Co-op vs. AI beginner bots [2]
11
637
2711
12.67%
• 4th Mark Rune slot
• No IP given for more than six custom games per day [2]
12
636
3347
15.65%
• 4th Seal Rune slot
13
646
3993
18.67%
• 4th Glyph Rune slot
14
663
4656
21.77%
• 5th Mark Rune slot
15
684
5340
24.97%
• 5th Seal Rune slot
• Less IP given for custom games [2]
16
709
6049
28.28%
• 5th Glyph Rune slot
17
735
6784
31.72%
• 6th Mark Rune slot
18
763
7547
35.28%
• 6th Seal Rune slot
19
793
8340
38.99%
• 6th Glyph Rune slot
20
823
9163
42.84%
• Tier 3 Runes
• 2nd Quintessence Rune slot
• 70% IP given for Co-op vs. AI beginner and 90% for AI intermediate bots [2]
21
1136
10299
48.15%
• 7th Mark Rune slot
22
1147
11446
53.51%
• 7th Seal Rune slot
23
1162
12608
58.95%
• 7th Glyph Rune slot
24
1180
13788
64.46%
• 8th Mark Rune slot
25
1201
14989
70.08%
• 8th Seal Rune slot
26
1224
16213
75.80%
• 8th Glyph Rune slot
27
1250
17463
81.64%
• 9th Mark Rune slot
28
1278
18741
87.62%
• 9th Seal Rune slot
29
1308
20049
93.73%
• 9th Glyph Rune slot
30
1340
21389
100%
• Ranked [1]
• 3rd Quintessence Rune slot
• 65% IP given for Co-op vs. AI beginner and 80% for AI intermediate bots [2]
See also