Ad blocker interference detected!
Wikia is a free-to-use site that makes money from advertising. We have a modified experience for viewers using ad blockers

Wikia is not accessible if you've made further modifications. Remove the custom ad blocker rule(s) and the page will load as expected.
Champion Spotlight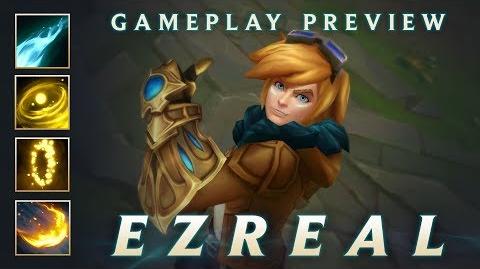 Recommended Items
Tips
Playing As  Ezreal
Use  

Arcane Shift

to help line up your other skill shots.
You can play Ezreal either as Attack Damage carry or Ability Power carry depending on how you build him.
You can line up  

Trueshot Barrage

to hit multiple minion waves or even Monsters.
Playing Against  Ezreal
Ezreal is a very fragile champion so take the fight to him.
Ezreal is completely skill shot based, so make sure to keep minions in between you.
 

Mystic Shot

applies on-hit effects including the Crest of Cinders.
Tricks
Ability Usage
Mastery Usage
Item Usage
The so called "Blue Build" that consists of building
into isn't the only build you should build on Ezreal. If your team lacks damage but has alot of tanks you should build into instead. It increases your overall damage and gives some health at the sacrifice of the AoE slow and armor that provides.
After you've built either of these two item combinations you should look for some damage items like
, or depending on the situation.
Countering
References