Skins
Trivia
Ezreal is voiced by Kyle Hebert, Who also voices  Graves and  Jarvan IV.
Ezreal was both named after and designed by Colt 'Ezreal' Hallam, one of Riot's game designers.
Ezreal was one of the champions chosen for the Ionian pool available during the Ionia vs. Noxus match. However, he was not one of the selected champions.
Ezreal is the first champion to have a Champion Spotlight on Riot's YouTube channel. Though it is unlisted, it can be viewed here
Ezreal's /dance is a direct homage to Hare Hare Yukai dance from the anime The Melancholy of Haruhi Suzumiya. Hallam states this "was all Shurelia's idea".[1] A side-by-side comparison can be seen here .
Ezreal was the first 6300 IP Champion released after the official launch of the game in October 2009.
Ezreal found the

Wriggle's Lantern

on one of his archeological expeditions to Kumungu.[2]
Quotes
Skins
Relationships
Media
Login Music
Music from the Pulsefile Trailer
Login Screen
Champion Spotlight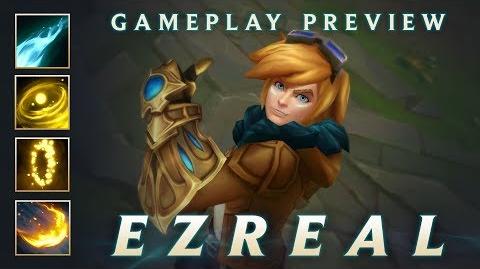 References
Upcoming Champions
Canceled Champions
Concept Art