For Ferocity resource, see
Offense Mastery Trees: Season 2011, Season 2012, Season 2013, Season 2014
Ferocity Mastery Tree: Season 2016
Ferocity Tree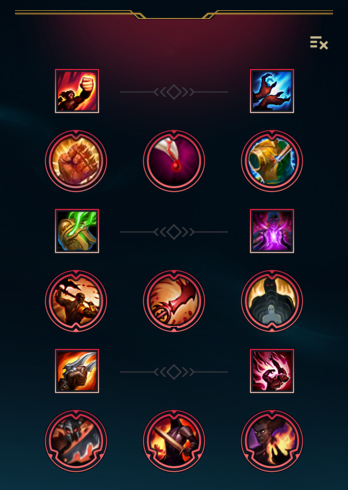 Other Mastery Trees:
Cunning •
Resolve
The Ferocity Mastery Tree is one of the three Mastery branches. It replaces the
Offense tree of previous seasons.
As of Season 2016, masteries were upgraded to a new system. Whereas previously you could invest in as many masteries per tree as you had points left to spend, each tier now has a maximum number of points you can allocate. As such, you may only spend up to 18 points in any one tree.
List of Masteries
Tier 1

(There are 5 points to allocate)
Tier 2

(Requires 5 points in Ferocity, with 1 point to allocate)
Tier 3

(Requires 6 points in Ferocity, with 5 points to allocate)
Tier 4

(Requires 11 points in Ferocity, with 1 point to allocate)
Tier 5

(Requires 12 points in Ferocity, with 5 points to allocate)
Tier 6 (Keystone)

(Requires 17 points in Ferocity, with 1 point to allocate)