Skill usage
Build usages
Building health along with ability power will help keep Fizz alive as he is melee and needs to be able to stay in the fight. Some good items are

Rylai's Crystal Scepter

and

Rod of Ages

.

Liandry's Torment

is fairly strong when building

Rylai's Crystal Scepter

, as the buff will always deal double damage. In addition, as it deals a percentage of the target's current health, it creates a synergy with  

Seastone Trident

dealing percentage damage from missing health.
It should be noted, however, that the

Liandry's Torment

's effect will not apply by simply autoattacking with  

Seastone Trident

's passive like most on-hit effects components. It will, however, apply when Fizz uses  

Urchin Strike

, as it applies both on-hit and on-ability effect. In this case, consider building

Frozen Mallet

on Fizz instead of

Rylai's Crystal Scepter

, as it not only provides a stronger slow, but more durability for Fizz as well.

Nashor's Tooth

is a decent item since the active on  

Seastone Trident

deals damage scaling on attack speed; the ability power, cooldown reduction and attack speed all benefit him.
Fizz's decent AP scaling damage and relatively low cooldowns at higher rank of his skills allows him scale well with Magic Penetration and Cooldown reduction items:

A

Deathfire Grasp

not only grants a health draining active against tankier champions, it also increases  Fizz's magic damage output for the duration of the debuff as well as Cooldown Reduction. A

Void Staff

is a good item to grab for Magic Penetration as well.

Hextech Gunblade

may seem as an unconventional item at first. However, it provides spell vamp and an active that will allow  Fizz to chase down enemies with relative ease and  

Urchin Strike

procs both Life-steal and Spell vamp. It also utilized both the attack damage and the ability power making it both an offensive, defensive and utility item all in one.

Morellonomicon

may seem to be an unconventional item at first due to  Fizz's  

Seastone Trident

's active. However, it provides Cooldown reduction that  Fizz needs for his abilities and the passive can easily serve as a secondary Grievous Wound if  

Seastone Trident

's active is on cooldown (as its passive applies on-hit effect like  Fizz's  

Seastone Trident

's passive).

If you have trouble farming due to heavy pressure from ranged pushers, consider picking up an early

Ancient Coin

/

Nomad's Medallion

. Even if you fail to last hit on a minion, you still get a small amount of gold for minion deaths, as well as some health and mana regeneration to stay alive in the lane. Keep in note these items don't build into anything useful for  Fizz and you should consider selling this gold generation item once you've built your core items.
Building an

Ohmwrecker

synergizes well with  Fizz's turret diving ability.

Lich Bane

,

Trinity Force

, and

Iceborn Gauntlet

synergize extremely well with  

Urchin Strike

.
An AD Bruiser build also works well on him due to the fact his W deals % damage. The bruiser also builds resistances and health (alongside AD) will allow him to stay in team fights as it counters his natural squishiness. It will also compliment his hit-and-run playstyle, as well as any jungling build.

Given his Ability Power ratios, building AD wastes some damage potential. However, the build choices for Fizz are highly flexible depending on the situation. A flat AP build will allow Fizz to easily one-shot many squishier champions while an AD bruiser build gives Fizz a better late game, survival and DPS against teamfights and tanky champions.
Recommended builds
Summoner's Rift



Starting

2

Essential
Offensive
Defensive
Consumables
The Howling Abyss



Starting

2

Essential
Offensive
Defensive
Consumables
The Crystal Scar



Starting

2

Essential
Offensive
Defensive
Consumables
The Twisted Treeline



Starting
Essential
Offensive
Defensive
Consumables
Countering
Champion Spotlight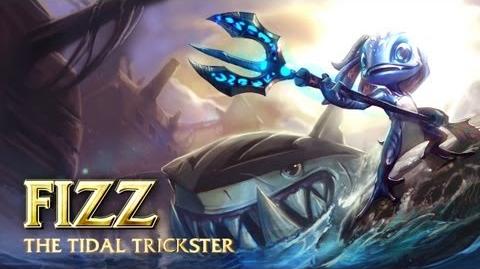 Upcoming Champions
Canceled Champions
Concept Art