Champion Spotlight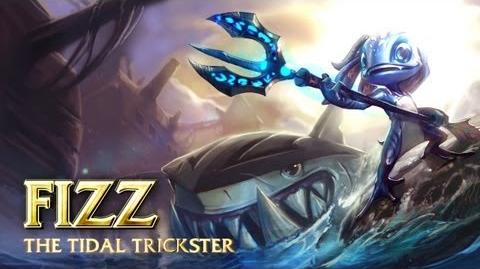 Recommended Items
Tips
Playing As  Fizz
Since Fizz can  

move through units

, find opportunities in lane to walk through minions and apply your  

Seastone Trident

ability - the damage will rapidly add up as the opponent's Health drops.
Fizz's ultimate ability,  

Chum the Waters

, can be aimed at an enemy or towards the area where you think they'll be going.
Fizz's spells scale off Ability Power - consider getting items like
or against teams that have high burst threat - and items like if you think you can survive without the Health.
Playing Against  Fizz
Fizz becomes extremely deadly when your Health reaches critical levels - each of Fizz's autoattacks apply  

a damage over time effect

that rapidly grows in damage as your Health becomes lower - stay healthy when fighting Fizz, if possible.
Fizz is best in extended skirmishes - don't chase Fizz if you can help it!
Tricks
Ability Usage
At level 6,  Fizz can guarantee a kill on a squishy with ,  

Chum the Waters

, and an entire spell rotation, in some cases even when you are a little behind.
Mastery Usage
Item Usage
Cooldown reduction is very important on  Fizz as he relies a lot on his cooldowns to do damage and escape. or as a first item is highly recommended.
can make him even more slippery.
Countering
References