Skins
Trivia
Development
General
His /dance is the same as Belle and the Beast performed in the Beauty and the Beast from Walt Disney. Galio imitates the lead of the Slow Waltz.
The highest attainable ability power by a playable champion at level 1 (without disconnecting) used to be 126.157979062 on  Galio thanks to his passive,  

Runic Skin

. To reach this amount, he must:

Have maximum ranks in the Mental Force, Arcane Mastery, Archmage, Enchanted Armor and  Resistance masteries (removed).
Have a full rune page of Ability Power runes.
Have bought a
.
Be under the effect of  Braum's  

Stand Behind Me

with five enemies nearby.
Be under the effects of  Orianna's  

Command: Protect

.
This combination will result in  Galio having 126.157979062 ability power.
Relevant mathematics:
In the background of his splash art looks what might be a Demacian city.
He has some resemblance to The Iron Giant from the eponymous Warner Bros movie, and some resemblance to the characters from the movie 9 .
It could be a reference to Clank from the Ratchet and Clank series.
It is a reference to the Imperial Guard of the Warhammer 40,000 series.
His Commando Skin resembles the Ogryn, a giant species of abhumans used as assault shock troopers of the Guard.
His clothes resemble the attire worn by Chris Redfield from the Resident Evil series.
Galio's Gatekeeper skin is one of the legendary skins at 1820RP which was released on April 23, 2012.
The skin may be a reference to Illidan Stormrage from the Warcraft series, with the Dark Portal in the background.
Highly likely to have been inspired by this artwork.
The skin resembles Hellboy, a hero from Dark Horse Comics, due to his red skin, giant fists, demon horns, and chonmage hairstyle. His wings are the only contradiction to the likeness of Hellboy.
The runes that mark the arms, also mark the cards of Underworld Twisted Fate. This shows a link between the two skins, as Galio guards the gate to the underworld.
The Skin also bears a strong resemblance to bloodthirsters from the warhammer universe.
Galio's Gatekeeper skin is the 3rd non-comical legendary skin. the 1st belonging to  Tryndamere and the 2nd to  Vladimir
Relations
Media
Related Themes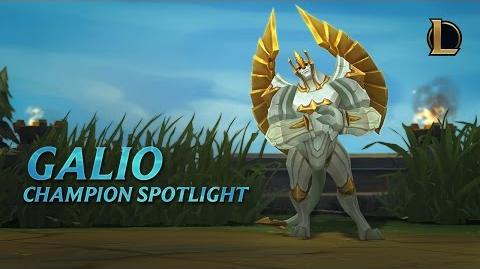 Upcoming Champions
Canceled Champions