Champion Spotlight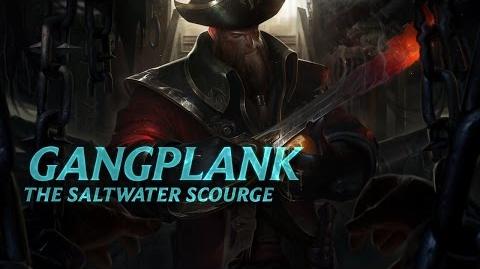 Recommended Items
Tips
Playing As
applies On Hit effects like or .
Paying attention to low-health enemies on the map can land you a surprise kill with
.
Try placing
on the path of escape to cut off fleeing enemies.
Early game, do not use your q on minions! Silver serpents are not more important than kill pressure.
Use your barrels defensively while you are weak, placing them on top of you or a little behind. Q the enemy at every opportunity and farm with your autos. Its harder to farm, but now you are a lane bully and its very difficult for the enemy to trade back if you consistently landing qs. A great start for this strategy is starting
and . An early upgrade of to can be extremely good for staying in lane and scaling.
Playing Against
does a high amount of physical damage. Items that grant Armor can help if an enemy Gangplank is doing well.
Once Gangplank reaches level 6, watch out for his global-range ultimate,
!
Tricks
Ability Usage
It can be used against turret but with 50% reduced damage.
It can be used as an escape tool for
.
It will not be applied by
.

periodically charges sword with fire. Basic attacking an enemy unit will ignite the enemy for 2.5 seconds and grants 30% bonus movement speed for 2 seconds.
 critically strike.

It is used to last-hit minions in order to generate

gold

and to upgrade .
It can detonate a
.

(+ 100% AD)

physical damage.
has a 5-second cooldown and a low mana cost of 40 per use. It deals 20 / 45 / 70 / 95 / 120

is core ability, it should be maxed out first. It is a ranged attack that applies on-hit effects and that can

portion of missing health

while also removing all crowd control upon use.

missing health

part.
base heal only increases by 25 health after rank 1. On top of that, his mana cost increases by 10 each rank. This is why this ability should only be ranked once, his base healing values are good enough and the only important scaling is the

is mana expensive spell that heals for a

Multiple
can be chained up to create an explosive chain of barrel.

gold

from for each minion killed.
, combined with , can be a devastating farming tool to last-hit minions. If the splash damage last-hit the minions hit, it will grants the bonus
 critically strike against enemy champions. This is because ignores

40% of the target's armor

and deals bonus damage against enemy champions. The  critically strike will splash out the all enemies and apply the armor penetration and bonus damage from .
can also be a game changing ability combined with a

is an offensive ability that works on a recharge system, storing up to 3 charges at once. It places an explosive barrel at target location for 60 seconds that can be detonated by basic attacks or , dealing physical splash damage to all enemies in an area.

can be used to defend a turret sieged by minions.
can be used in teamfights were damage or crowd control is needed.
can also be used to gank another lane.
Thanks to the

will add a 200-radius attack in the middle of the dealing true damage and slowing enemies by 60% for 1.5 seconds.
will boost up allies' movement speed within the area by 30%.
will fire 2 additional clusters over its duration.

earned with , has the option to upgrade with either , or .

is a global range offensive/defensive ability that deals magic damage in a large area.
Mastery Usage
 10 upon hiting an enemy champion. On that of that and both share a cooldown of 5 seconds.
synergizes greatly with kit as will grants
Using
on your opponent over enemy minions is heavily recommended to apply lane pressure, and because you actually gain more gold by doing that than by using this skill on minions. However, you need to switch later to using on minions, because you can't gain Silver Serpents by using it on your lane opponent. Also, watch out for your mana pool, as this skill costs a moderate amount of mana and spamming it carelessy drains all of GP's early mana pool.
Item Usage
AD

items and some tank items.
can be played as an offensive bruiser built of
Gangplank may actually benefit from starting

and are alternative starting items that can also fix Gangplank's early mana issues and are arguably more beneficial to him than Doran's Ring. A higher level strat on Gangplank is to use your barrels defensively by placing them on yourself and pushing in to turret right away, getting 350g. Back quick and upgrade to . also builds into a quicker while building towards .
is an alternative choice for players who really enjoy farming. However, it makes Gangplank go OOM easily.

, even though he is AD. The mana regeneration from this item is what makes it a good option. Everytime you last hit a minion with , you gain some mana back (effectively making have a reduced mana cost), and you also gain mana back when last hitting without it. When combined with the mastery, it allows Gangplank to sustain his mana fairly well as long as he doesn't just spam his skills carelessy. The AP is actually not useless as it increases 's heal and 's damage by a tiny bit.

Consider buying items such as
, , or even if you really need mana.

will require either more mana, either mana regeneration in order to farm without trouble.

Consider buying items such as
, , , , or .

kit works well with cooldown reduction.
is a really offensive choice that enhances mostly.
will increase the heal received by .
is a good option if going with a crit build. can proc it, and it does a lot of burst damage.
Countering
is going to try to farm most of the time, prevent that by playing aggressively.
can be devastating for your team in teamfights, always try to last hit his barrels in order to disarm them.
References