Ad blocker interference detected!
Wikia is a free-to-use site that makes money from advertising. We have a modified experience for viewers using ad blockers

Wikia is not accessible if you've made further modifications. Remove the custom ad blocker rule(s) and the page will load as expected.
Champion Spotlight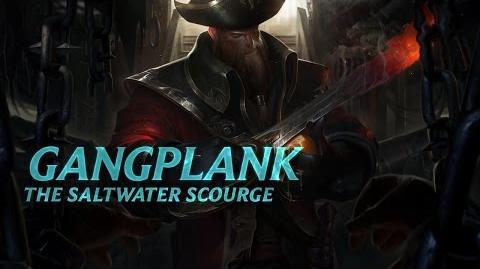 Recommended Items
Tips
Playing As  Gangplank
 

Parrrley

applies On Hit effects like or .
Paying attention to low-health enemies on the map can land you a surprise kill with  

Cannon Barrage

.
Try placing  

Cannon Barrage

on the path of escape to cut off fleeing enemies.
Playing Against  Gangplank
 

Parrrley

does a high amount of physical damage. Items that grant Armor can help if an enemy Gangplank is doing well.
Once Gangplank reaches level 6, watch out for his global-range ultimate,  

Cannon Barrage

!
Tricks
Ability Usage
Mastery Usage
 Gangplank's kit as  

Parrrley

will grants 10  upon hiting an enemy champion. On that of that and  

Parrrley's

both share a cooldown of 5 seconds.
synergizes greatly with
grants bonus magic damage and healing that are undeniably useful.
Item Usage
Countering
 Gangplank is going to try to farm most of the time, prevent that by playing aggressively.
 Gangplank's  

Powder Keg

can be devastating for your team in teamfights, always try to last hit his barrels in order to disarm them.
References