"Submit to my designs."

Use the info here with consideration. It might be outdated or biased info.
Gameplay
Champion Spotlight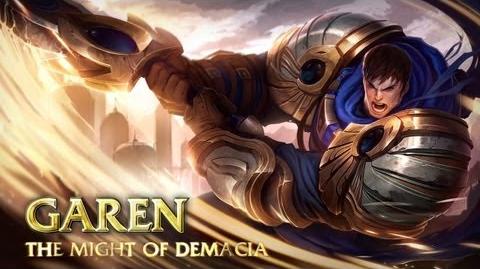 Spin to win in the Champion Spotlight for Garen, the Might of Demacia.
 Garen's a melee fighter who excels at bringing justice to his opponents in the form of tough, physical DPS. With a
 silence, a
 damage-reducing shield and an
 execute-style ability to help secure kills, Garen's toolkit is ideal for trading hits in one-on-one skirmishes while still remaining tanky. And of course there's
 Judgment, his signature ability, a furious, uninterruptable damaging spin. Garen's zero-cost spells and sturdy foundation of
 resistances and
 regeneration make for an aggressive, bullying playstyle that justifies his reputation as the most respected warrior in Demacia's fighting elite.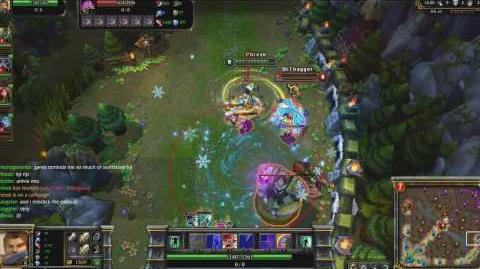 Recommended Items
Tips
Playing As  Garen
Garen's  

regeneration

greatly increases if he can avoid receiving damage for several seconds.
 

Judgment

deals maximum damage when only hitting a single target. For effective trading, try to position such that only the enemy champion is hit.
Garen is only constrained by cooldowns, making items such as
very effective for him.
Playing Against  Garen
Stack armor items to lower the large amount of physical damage that Garen deals out.
Try to run away from Garen as your health gets lower, as he can execute you quickly with  

Demacian Justice

.
Be careful about attacking Garen in brush. It often will lead to taking full damage from  

Judgment

.
 

Judgment

deals maximum damage when only hitting a single target. If getting out of its radius isn't possible, move through allied minions to reduce damage taken.
Tricks
Ability Usage
Mastery Usage
Item Usage
 Garen is a melee champion, who excels in quickly killing priority targets and being able to soak up tons of damage.
 Garen as  

Judgment

can quickly apply stacks on multiple enemies.

Another option would be movement speed and attack speed. This makes it a great late game item as  Garen can use the extra attack speed to help destroy turrets.
; it gives similar AD and Armor penetration, but it also gives a short boost to
They can also be built together for an easy source of 30% CDR to combine with
.

is a good early item for him and can later be built into , which is very effective on
is an excellent item due to its combination of damage and health, along with its passive to boot.
and its upgrades is a good counter to teams stacking mass amounts of armor but gives no defensive stats, which are important if you are to survive the enemy's damage long enough to deal yours.
As both  

Decisive Strike

and  

Judgment

benefit from critical strike, items such as increases the ability's damage output as well as his basic attacks.
 Garen against high burst magic damage.
is a good anti-mage item. An early can help
While the AoE on-hit passive component of  

Judgment

, the active ability can be activated while spinning for extra burst.
and is somewhat redundant on Garen thanks to how easily he can farm with
 

Perseverance

, easily allowing him to regenerate

0.48 / 0.96 / 2.40

% of his maximum health each second.
synergizes well with
 

Perseverance

allows to recover health quickly after teamfights without going back to base. The extra health along with  

Courage

makes him very hard to kill in a teamfight.

Building  

Perseverance

, giving  Garen the ability to regenerate nearly all of his health in a matter of seconds out of combat.
and synergize even better with

can be a good choice as well; the item's passive along with
 Garen, as it provides some attack damage and a powerful slow to help  Garen stick to his target.
is a decent health item for
In combination with  

Judgment

, an early helps with  Garen's wave clearing capabilities, as well as providing mixed damage and constant threat.

On a similar route,
grants higher stats with some added mobility to make you much more difficult to catch.
Countering
References