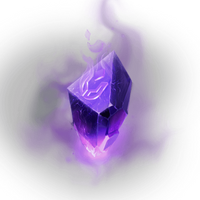 Patch V6.3 introduced

 gemstones that are used to forge exclusive loot.
Obtaining Gemstones
Opening a Hextech Chest with a Hextech Key has a 4% chance of giving you a gemstone.
Leveling up to certain summoner levels (150, 200, 250, 300, 350, ...) gives you a guaranteed gemstone.
On certain events:

2018 Lunar Revel on patch V8.3, a gemstone could be bought alongside the Puppy Warwick icon for  1250.
Snowdown Showdown on patch V7.24, unique gemstones could be bought by purchasing the following summoner icons: Gemstone Stocking, Gemstone Pengu, Gemstone Poro.
During the Essence Emporium, unique gemstones can be bought for  50,000,  75,000, and  100,000. These are respectively given with an exclusive icon: Gemstone Knight, Gemstone Prince, and Gemstone King.

Epic Capsules were limited time capsules. They rewarded you with 3 skins, at least one being Epic and increased Chance of getting Gemstone.
Loot Exclusive Content
Skin
Hextech Chest (

Permanent

)
Re-Rolled Shards

Rarity

Token
Crafted with Rare Gems
[ | ]
Rare
 10
[ | ]
Rare
 10
[ | ]
Rare
 10
[ | ]
Rare
 10
[ | ]
Ultra Rare
 10 (31-Aug-2017 to 8-Jan-2018)
[ | ]
Rare
 10
Hextech Ward
Rare
 5
Dawnbringer Ward
Rare
 3 (No longer available)
Nightbringer Ward
Rare
 3 (No longer available)
Neo PAX Sivir [S|L] can also be obtained with a Redeemable Code from Riot events.
Other Loot
Legacy Loot
On the 2018 Lunar Revel event exclusive golden chromas and summoner icons were available. Each bundle costed

 5 gemstones (or one
Golden Revel Token).
| Champion | Chroma | Icon |
| --- | --- | --- |
| [ | ] | | |
| [ | ] | | |
| [ | ] | | |
| [ | ] | | |
| [ | ] | | |
| [ | ] | | |