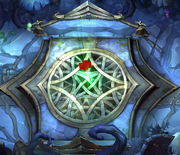 The Ghost Relic is located in the center of the jungle of the Twisted Treeline.
When picked up, it restores:
Additionally, picking up the ghost relic grants a 20% movement speed bonus that wears off over 5 seconds.
The Ghost relic spawns at 3:00 and respawns 90 seconds after being picked up.