Ad blocker interference detected!
Wikia is a free-to-use site that makes money from advertising. We have a modified experience for viewers using ad blockers

Wikia is not accessible if you've made further modifications. Remove the custom ad blocker rule(s) and the page will load as expected.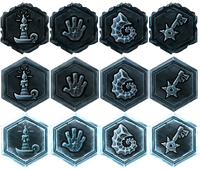 Glyphs
are the blue
 runes
. They have magic boosts as their primary runes, which are very useful to spellcasters. There are no Glyphs of Scaling Armor, Armor Penetration, and Health Regeneration. There are 22 variants of glyphs.
The Glyphs are represented in four forms: a candle in a candle holder, a hand, a sea shell, and a star key.
List of Glyphs
The following table describes all of the glyphs, along with their effects and their rank. For a complete list of all runes, see the list of runes.
Name
Rank
Tier 1 (Lesser)
Tier 2 (Normal)
Tier 3 (Greater)
Ability Power
Primary
0.66

30

0.92

165

1.19

410

Armor
Secondary
0.39

15

0.55

80

0.7

205

Attack Damage
Secondary
0.16

15

0.22

80

0.28

205

Attack Speed
Secondary
0.35%

30

0.5%

165

0.64%

410

Cooldown Reduction
Primary
0.47%

65

0.67%

330

0.83%

820

Critical Chance
Secondary
0.15%

30

0.22%

165

0.28%

410

Critical Damage
Secondary
0.31%

65

0.43%

330

0.56%

820

Energy
Primary
2.2

820

Health
Secondary
1.49

30

2.08

165

2.67

410

Health Regeneration
Secondary
0.15

65

0.21

330

0.27

820

Magic Penetration
Secondary
0.35

30

0.49

165

0.63

410

Magic Resist
Primary
0.74

15

1.04

80

1.34

102

Mana
Primary
6.25

30

8.75

165

11.25

410

Mana Regeneration
Secondary
0.19

30

0.26

165

0.33

410

Scaling Ability Power

(Ability power per level)

Primary
0.1 per level
(1.8)

30

0.13 per level
(2.34)

165

0.17 per level
(3.06)

410

Scaling Attack Damage

(Attack damage per level)

Secondary
0.02 per level
(0.36)15
0.03 per level
(0.57)80
0.04 per level
(0.73)205
Scaling Cooldown Reduction

(Cooldown reduction per level)

Primary
0.05% per level
(0.93%)

30

0.07% per level
(1.3%)

165

0.09% per level
(1.67%)

410

Scaling Energy

(Energy per level)

Primary
0.161 per level
(2.89)

820

Scaling Health

(Health per level)

Secondary
0.3 per level
(5.4)65
0.42 per level
(7.56)330
0.54 per level
(9.72)820
Scaling Magic Resist

(Magic resist per level)

Primary
0.09 per level
(1.68)

15

0.13 per level
(2.34)

80

0.16 per level
(3)

205

Scaling Mana

(Mana per level)

Primary
0.79 per level
(14.22)

30

1.1 per level
(19.8)

165

1.42 per level
(25.56)

410

Scaling Mana Regeneration

(Mana regen per level)

Secondary
0.04 per level
(0.67)15
0.05 per level
(0.94)80
0.06 per level
(1.2)205
Special Runes
There are some runes that were only available for a limited time:
Glyph of the Special Stocking (Tier 2.5, cooldown reduction)
Glyph of the Gracious Gift (Tier 1.5, AP per level)
Glyph of the Soaring Slalom (Tier 2.5, cooldown reduction)
Glyph of the Challenger (Tier 1.5, AP per level)