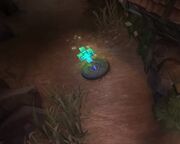 Ten Health Relics are located throughout the Crystal Scar. Any champion can pick up a health relic to immediately restore health and either mana or energy. Also grants 
 Renekton,
 Shyvana and
 Tryndamere 40, 12, and 20 Fury, respectively.
Health Relics spawn at 2:00 and respawn 33 seconds after being picked up. Their number varies from 5 to 10 depending on game mode (10 for Dominion, 5 for Ascension, 7 for Definitely Not Dominion)
Ad blocker interference detected!
Wikia is a free-to-use site that makes money from advertising. We have a modified experience for viewers using ad blockers

Wikia is not accessible if you've made further modifications. Remove the custom ad blocker rule(s) and the page will load as expected.