Skill Usage
Edit
Build Usage
Edit
Because  Hecarim is weak against high sustained damage, consider a

Warden's Mail

against sustained autoattack damage or a

Negatron Cloak

against sustained magic damage.
While defensive boots may be necessary for  Hecarim in most games, being a melee AD character, in games where  Hecarim can afford to build more offensively, his  Warpath passive makes

Boots of Swiftness

an offensive alternative to

Berserker's Greaves

or

Ionian Boots of Lucidity

.

Boots of Mobility

has more limited usefulness because  Hecarim can use  Devastating Charge to effectively traverse the map without them and entering combat nullifies their bonus movement speed; however, they can still provide an extra burst of damage on your first attack.

Boots of Swiftness

 can be all the speed increase Hecarim needs to nearly maximize  Warpath by increasing his base speed from 345 to 405, 10 points under the first soft cap. They also reduce the effectiveness of slows and allow for a more versatile itemization. A single Greater Quintessence of Movement Speed can be used to bring it to 411 movement speed, without using masteries. 

Homeguard

 is very useful for  Hecarim when defending the base because he can give a surprise to his opponent by activating  Devastating Charge at the spawning pool and dash to the pushing enemies. If you can time your  Rampage just before the enhanced autoattack, you can deal a high burst of damage even when you build a few offensive items because  Warpath converts your bonus movement speed into bonus AD.

Your AD can reach over 350 by the method shown above in a short time.

Youmuu's Ghostblade

synergizes with  Warpath and  Hecarim's burst damage tendencies in general.

The Black Cleaver

provides many useful stats for  Hecarim: health, attack damage, cooldown reduction and armor penetration .

Additionally, 

The Black Cleaver

's passive synergizes well with  Hecarim's  Rampage. With its short cooldown, it allows  Hecarim to apply the armor reduction stacks in quick succession.  

Despite the virtues of building bonus movement speed on  Hecarim, it isn't necessary to stack movement speed on him. Even with only a couple bonus movement speed items,  Hecarim can get a large  Warpath bonus from runes, masteries, Ghost, and support champions with haste abilities such as  Time Warp or anyone holding

Shurelya's Reverie

.
 Spirit of Dread heals  Hecarim based off of all damage dealt to enemies from any source.

Spirit Visage

boosts this healing. It is also a very useful item for  Hecarim in general, granting magic resist, health, health regen/5 seconds, and cooldown reduction, all of which are useful for  Hecarim's common role as a tank.

Since  Spirit of Dread returns health off of ANY damage done to enemies while it is active,

Sunfire Cape

makes a better-than-usual item, essentially granting up to a bonus 52.5 health regen/5 seconds for each nearby enemy champion (with enemy minion health drained being capped) for 4 seconds, in addition to the bonus armor and health.

Sheen

and

Iceborn Gauntlet

synergize particularly well with  Rampage, as its low cooldown allows you to proc the bonus damage and slow approximately every other autoattack.

Alternately, and especially since the rework to

Phage

,

Trinity Force

can be a useful offensive item for  Hecarim. The bonus movement speed from

Zeal

helps his roaming and gives bonus damage due to  Warpath, and

Phage

grants bonus movement speed on-hit, improving his already potent chasing ability. However, unlike

Iceborn Gauntlet

, it does not provide armor, cooldown reduction, or the slow, all of which are very useful for  Hecarim.

Frozen Heart

is an excellent mid game item for Hecarim, as all the stats it provides are greatly beneficial to him, making it very cost effective.
Recommended builds
Edit
Summoner's Rift




recommended items

Starting

5

Essential
Offensive
Defensive
Consumables
The Howling Abyss




recommended items

Starting

2

Essential
Offensive
Defensive
Consumables
The Crystal Scar




recommended items

Starting

2

Essential
Offensive
Defensive
Consumables
The Twisted Treeline!




recommended items

Starting

5

Essential
Offensive
Defensive
Consumables
Countering
Edit
Champion Spotlight
Edit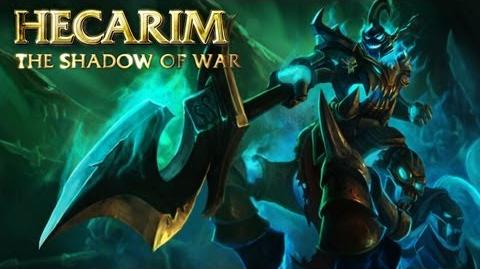 Upcoming Champions
Canceled Champions
Concept Art