Skill Usage
 

Warpath

benefits from all movement speed bonuses, including those provided by boots (Movement speed 1 provides +25, 2 is +45, 3 is +60, 5 is +105), Ghost (+27%),

Homeguard

,  Revive and  

Devastating Charge

(up to +75%).

 

Devastating Charge

deals more damage based on the distance traveled. Try using  

Onslaught of Shadows

or summoner spells such as Ghost or Flash to maximize this damage.
There are also Nimble and Wanderer masteries and Swiftness runes

HOWEVER, raw movement speed in the range of 415–490 suffers an 80% multiplier, and raw movement speed beyond 490 suffers a 50% multiplier. See Movement speed for further information.

Therefore, it is probably better to simply build AD instead of getting movement speed buffs, simply for the better AD per gold ratio(s).
As a rule of thumb, having at least one movement speed item would be very efficient, two is optional and any above is considered cost inefficient.

 Hecarim can cast  

Rampage

while moving, making it good for harassing melee champions, chasing enemies, and hit-and-run tactics.
 

Spirit of Dread

restores health when nearby enemies take damage, including damage dealt by allies. Cast this during a large fight to maximize  Hecarim's survivability.
When jungling as Hecarim, be sure to use Smite while  

Spirit of Dread

is active, to gain a small burst of healing.
Slow effects significantly reduce  Hecarim's damage output if you build him with high movement speed. Cleanse and tenacity help to combat this.
 

Devastating Charge

applies on-hit effects and also damages turrets, try to combine it with

Sheen

or

Trinity Force

to maximize its damage.
Be sure to activate  

Devastating Charge

just before using  

Onslaught of Shadows

whenever possible:
 

Onslaught of Shadows

can be used for avoiding many skillshots with disables, like  Ashe's  

Enchanted Crystal Arrow

, with the right timing.
In team fights, try to use  

Spirit of Dread

 when your teammates use their high-damage abilities on enemy champions. In this case,  Hecarim can be almost unkillable during the 4 second duration.
Build Usage
Recommended builds
Summoner's Rift



Starting

5

Essential
Offensive
Defensive
Consumables
The Howling Abyss



Starting
Essential
Offensive
Defensive
Consumables
The Crystal Scar



Starting

2

Essential
Offensive
Defensive
Consumables
The Twisted Treeline



Starting

5

Essential
Offensive
Defensive
Consumables
Countering
Champion Spotlight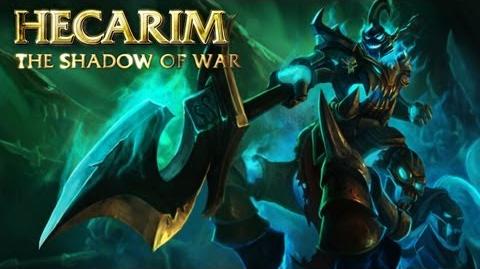 Upcoming Champions
Canceled Champions
Concept Art