Hextech Protobelt-01
is a
finished item
in
League of Legends
.
[1]
Recipe
Cost Analysis
Gold Value
Gold Efficiency*
94.87%

gold effecient, without its active.
is
Similar Items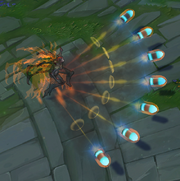 Patch history
Bug Fix:

Active can now be properly used during , cancelling the channel.
AP ratio reduced to

25% AP

from

35% AP

.
Additional damage per bolt reduced to 10% from 20%.
Protobelt's dash now disables spellcasts and channels for the duration.
Bug Fix:

Fixed a few interactions between Hextech Protobelt-01's active and empowered attacks (ex. ).
Grants +300 health.
Grants +60 ability power.
Grants +10% cooldown reduction.
References
Starter items
Consumables
Trinkets
Distributed
Basic items
Advanced items
Finished items
Removed items