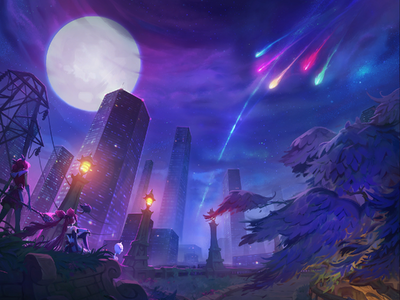 Invasion is a temporary game mode that first occurred from August, 2017.
Description
Overview

Players:

5

Map:

Valoran City Park

Mode Type:

5 player co-op battle.

Win Condition:

Defeat a series of invading space monsters, culminating in a large Boss Fight.
Star Guardian game mode is released with two different queues: Invasion (the base experience), and Onslaught. Onslaught mode:
Onslaught is the higher intensity version of the mode, and can be entered either after playing (not beating) Invasion once, or by queueing for Onslaught with a friend who's already unlocked it.
Unlike Invasion, which features two fixed rooms, Onslaught's succession of rooms will be fully randomized within a set.
Scoring system
Upon completing each room in Onslaught, you'll be given a score, and a letter grade up to S+.
First, you'll be given points based on how long it took you to complete the room (Target time is displayed in the top right corner).
Afterwards, you'll receive bonus points for completing the room with very few casualties.
Upon finishing a run, you'll receive another letter grade based on your average score across the entire run (Boss Room will be counted twice). This can be seen at the end of the game, as well as on the EoG screen.
Champions
In this gamemode you can only play as a Star Guardian, and a Star Guardian can only be played by one player. All the Star Guardian champions are available, and when selecting a champion the Star Guardian skin is automatically selected.

, [ | ], [ | ], [ | ], [ | ], [ | ], [ | ], [ | ], [ | ], [ | ]. [ | ]
Mode Flow
Each game "run" is made up of a series of 7 different encounters, followed by a final Boss Fight against "The Big One".
Between each encounter, you'll be given a flat amount of Gold and a Level, and will have time to purchase items. *Whenever you're ready to move on, channel on the large star in the center of the area. Once everyone is ready, you'll begin the next fight.
Encounter Types
Encounters come in four major varieties:
Survival:
Simply defeat all enemies: A wave will end as soon as the last enemy is slain.
Enemies may come in multiple waves, so killing the last enemy is not guaranteed to immediately end the encounter.
Escape:
Get yourself (and hopefully your teammates) to the escape point.
As soon as one of your teammates reaches the escape point (helpfully marked by your lovely familiar assistants), your entire team will instantly win.
Leaving the Star Guardian Protective Shield will cause you to begin taking damage. Damage taken will escalate rapidly the longer you're outside, so be careful!
Defense:
You and your team are trapped inside the Star Guardian Protective Shield. Hold back the attackers without leaving its confines.
Combines the traits of both of the above: Defeat all enemies to progress, but leaving the shield will cause you to begin taking damage.
Boss:
Defeat the enemy boss and restore peace to Valoran City (Park)!
Enemies
Monsters
Targeting Type
Abilities
Champion
Grumpy Burrow Monster

Damages all enemies she passes through.
Can be interrupted by disabling or killing the monster.

Used aggressively to disrupt guardians.

Used after Unburrow, before burrowing and attempting to disengage.

These monsters single out guardians and aim to cause as much disruption as possible. Once Unburrowed, they will stick around to attack for a few seconds before Burrowing and attempting to disengage.

HUGE Grumpy Burrow Monster

Telegraphed
Used to engage from a distance, damaging all enemies she passes through.
Some effects seem capable of interrupting Void Rush, while other disables state "Cannot be interrupted". Unknown which disables are bugged.

Used after Void Rush, before burrowing and attempting to disengage.

These monsters aim to hit as many guardians as possible with their initial engage, and stick around for quite a bit longer than their smaller variants before disengaging and trying again.

Champion
Draggy Tail Monster

Used frequently to engage and disengage from fights.
Shield has no maximum duration.
The bonus movement speed is independent of the shield.

Attempts to drag enemies into dangerous situations, such as into the path of Disintegration Rays or outside of the Star Guardian Protective Sphere.
The effect can be interrupted by disabling or killing the monster.

Depending on the encounter, these monsters will either charge forward and impale the first guardian they collide with; or they will actively fixate on specific guardians. Likes to lead you on a merry goose chase around the map since he's so fast.

Champion
Shooty Eyeball Monster

Fired continuously and have global range.
If interrupted, will not resume firing for an extended duration.
The bolts split based on the guardian's facing direction, rather than perpendicular to the monster as with
.

Depending on the encounter, these monsters will either aim for a specific guardian or along a predetermined trajectory. If overwhelmed, one strategy is to have a single guardian intercept the projectiles.

HUGE Shooty Eyeball Monster

Has a substantially increased duration and substantially increased range - enough to be global on most of the smaller encounters.
At the end of the duration or if interrupted, will not fire again for some time.

Depending on the encounter, these monsters will either aim for a specific guardian, perform a predetermined strafing run, or work alongside other Huge Shooty Eyeball Monsters to form makeshift arenas.

Champion
Jumpy Slashy Monster

Reduced cooldown and doesn't restored health.
Doesn't appear to engage until this ability lands.

Used during leap.
Does not appear to have an isolation mechanic.

Used to disengage after leaping. Lasts considerable longer.

These monsters do not stick around long, and can easily cause guardians to fail their Time Objective. These monsters tend to fixate on a specific guardian, and will not perform their Leap, Slash and Disengage rotation until in range of their target - which can be used to the team's advantage.

Champion
Scary Spitty Monster

This ability has a channel time before activating, but has significant range and speed.
The maximum range of this ability is telegraphed to the guardians.
Both the channel and the active effect can be interrupted by disabling or moving out of range.

These monsters are a common target for Wriggly Bubble Monsters, and are one of the highest priority targets.

Champion
Big Stompy Monster

Casts continuously as it moves around the battlefield.
The effect can be interrupted by disabling or killing the monster.

These monsters appear to focus on causing as much disruption as possible and are not fixated on any individual guardian.

HUGE Big Stompy Monster

Casts continuously as it moves around the battlefield.
The effect can be interrupted by disabling or killing the monster.

Selects a guardian when it spawns and chases them down mercilessly.
Once consumed, the guardian is slowly digested - giving their allies the opportunity to save them.
Once digested, the monster will select a new target.

Recommended that the target of Feast maintains a distance while their allies deal with the threat.

Minion
Wriggly Bubble Monster (conjectural name)

Impunity Beam

Grants invulnerability and untargetability to an invader (champion targets only).
Prioritizes Scary Spitty Monsters, but does not change target once locked on unless forced to.
The effect can be interrupted if the monster is separated from its target, but the tether radius is substantial. Disables will not, by themselves, interrupt the tether.

These monsters most commonly spawn in conjunction with

Scary Spitty Monsters

, which they protect with their Impunity Beam. Dispatching of them is a top priority.

Minion
Voidling

Spawn in swarms that melt through guardians if left unchecked.

Minion
Voidspawn

Spawn in swarms that melt through guardians if left unchecked.
Virtually guaranteed to die to a single source of damage.

Epic Monster
The Big One

Charge

Rears back for a short duration and then charges forward, dealing damage to all enemies hit and knocking them back a substantial distance.
Vulnerable to airbornes and knockdowns, although the collision radius is huge.
This will knockback other monsters too.

Riptide

Marks three concentric rings on the ground that erupt simultaneously, knocking up and damaging enemies.

Spawn

At regular health thresholds, spawns a random wave of monsters to assist in dispatching the defending guardians.
Spawns can be triggered in succession, eventually overwhelming defenders if their approach isn't staggered.

Volley

After a brief channel, a 360° volley of projectiles are unleashed that deal substantial damage.
Terrain will intercept the projectiles.
Often used twice in succession.
Telegraphed.

Weakspot

When open, the eye on her back can be attacked to deal bonus damage.

The Big One

fixates on individual guardians and will chase them down, although it will often choose a new target after each ability cast - this can be used to keep it at a defensible location. This monster is vulnerable to displacement effects, but will continue to act while being moved.
Guardian Perks
Respawns
A downed guardian isn't truly out of the fight, and will leave behind Starlight. Any ally standing on the marker for 2 seconds will resurrect the Guardian.
Both Resurrector and Resurrected will gain a brief period of invincibility.
Resurrector will spend a bit of their health to save the ally. The Resurrected Guardian's health will be based on the Resurrector's.
Health Packs
Your familiars will constantly summon health packs for your team.
Picking up the pack will restore some health and a good amount of mana to every member of your team.
Items
Items disabled in this mode are:

All consumables items
All wards
All gold generation items except the
line.

If you generate additional gold during an encounter (whether it be via items, masteries, runes, whatever) it will be taken out of you gold payment for the next round (So if you earn 50 gold, and should gain 150 gold, you'll only be given 100 instead).
Lifesteal will be increasingly weakened as the mode progresses, down to 60% strength for the final bossfight.
Summoner spells
Only the following summoner spells are available:
Strategy
Tips
You can surrender at any time.
Champions, making it a must-buy for mana-intensive casters.
mana restoration passive will trigger versus the invading
can be used in conjunction with to turn or into a viable healer.
Missions
The S-rank requires 5000 total points, and is not based on an average. Scoring an S on the final boss awards 2000 points by itself.
Killing all the HUGE monsters within a round will award 250 bonus points.
No Deaths is worth 200 Points, which is reduced by 50 for each death down to 0.

The exception is on Escape missions, which awards 400 Points for No Deaths but each death costs 100 Points. This is because there is no time objective.
Trivia
This mode is heavily inspired by the Star Guardian skin theme and was released concurrently with the 2017 Star Guardian skins.
It is the second game mode to have unlocked skins for play, after Dark Star: Singularity.
Media
See also
References