"Submit to my designs."

Use the info here with consideration. It might be outdated or biased info.
Gameplay
Champion Spotlight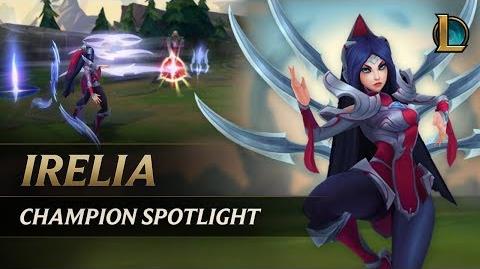 Recommended Items
Tips
Playing As  Irelia
Use  

Bladesurge

to cover great distances by targeting low life minions on your way to champion targets.
Save your  

Transcendent Blades

attacks for the right moment.
Reserving  

Equilibrium Strike

for losing battles can often turn the tide.
Playing Against  Irelia
Be wary of Irelia's  

Equilibrium Strike

, as it stuns if you have a higher Health % than her.
Irelia can quickly cover great distances by using  

Bladesurge

on low life targets (its cooldown refreshes if it slays the target).
Tricks
Ability Usage
Mastery Usage
Item Usage
attack speed to use  

Hiten Style

more effectively.
grants a small boost in mobility, and
Spellblade applies itself automatically on  

Bladesurge

, boosting its damage. Each individual blade of  

Transcendent Blades

triggers (but does not apply) the Spellblade proc. The mana increase also allows  Irelia to use  

Bladesurge

to farm and last-hit minions more often, especially in a lane she cannot control and is forced against the turret.
's
 

Equilibrium Strike

's slow/stun, and additional AD/health is always essential on a melee champion. You should buy it first (after a   if you have mana problem).
adds onto chasing potential with

is recommended for a good reason, as shown by its components and subsequent easy build-up:
 can be a good alternative to  .  Especially if the enemy deals a lot of physical damage.
Attack Speed should be a priority to DPS-focused  Irelia players, because of the damage potential and healing of  

Hiten Style

.

 Irelia because of the attack speed, magic resistance and the bonus on-hit damage.
is a great item on
 is also great, giving more AS, as well as sustain and a strong active.

When considering defense, remember that  Irelia has 2 ways of healing, and thus armor and magic resist are valued somewhat higher.  You still want health to protect against burst damage.

 

Hiten Style

 and  

Transcendent Blades

 allows  Irelia to gain a great amount of health back when in trouble, as well as giving her some nice CDR to use her abilities even more often.

Even though it stacks multiplicatively with her  

Ionian Fervor

, is still a good choice, as it helps you stick to your target.

 along with 

Note:

Being revived with a while having one  

blade

left will revive you with four blades ready.

 not only gives you armor and magic resist, but the passive allows you to be much more aggressive in teamfights.
Countering