Skill usage
Edit
Build usage
Edit
Even with his fairly high base stats, as a carry  Jax is very item dependent for his damage output and survivability, being able to obtain gold from any source and building the best items at the most opportune time is crucial to his mid and late game.
 Jax is one of very few champions that can be itemized for attack damage, magic damage, or both. Keep in mind that not going hybrid doesn't take advantage of a lot of  Jax's kit and will leave  Jax lacking either some armor or magic resistance on his  Grandmaster's Might active.

Hextech Gunblade

in particular provides everything that  Jax needs: attack damage and ability power for chewing through health (and by extension, armor and magic resist with  Grandmaster's Might), life steal and spell vamp for sustainability, and a ranged slow active that considerably helps chasing.
A

Sheen

with  Leap Strike and  Empower allows  Jax to deal a massive amount of damage in quick succession. Although  Leap Strike will not proc

Sheen

, it will proc  Empower and leave  Jax close to the enemy and ready to land a normal attack which will in turn proc

Sheen

. This all happens very fast, making it a good way to harass or burst down a target. If you find this efficient, consider a

Lich Bane

in a build with more ability power and

Trinity Force

in other cases.

If you choose to invest strongly in ability power,

Lich Bane

is a great choice.  Empower's cooldown is very low on its higher levels, allowing frequent use of

Lich Bane's

passive.
Combine with

Nashor's Tooth

to further decrease all of  Jax's cooldowns, especially  Empower, and get some extra ability power and attack speed.

Wriggle's Lantern

is an effective laning item for  Jax. The life steal increases sustainability and the

Sight Ward

promotes pushing and preventing ganks. Overall, it provides a large amount of lane control.
Attack speed is fairly important on  Jax. He should have at least one item that provides it to coincide with his  Relentless Assault. Consider purchasing

Nashor's Tooth

,

Guinsoo's Rageblade

,

Wit's End

, or

Phantom Dancer

.
Because a large amount of  Jax's damage comes from the passive on  Grandmaster's Might and  Empower, a full ability power build with a little attack speed is acceptable on  Jax. Doing so would be ignoring his inherent hybrid balance with his abilities' attack damage and ability power ratios.

The magic penetration of

Sorcerer's Shoes

can effectively increase the damage of  Empower and the passive of  Grandmaster's Might. However because  Jax is very susceptible to CC so

Mercury's Treads

is a more balanced choice. Use

Sorcerer's Shoes

only if you don't expect much crowd control.

Thornmail

would easily make up for the lack of armor from  Grandmaster's Might in an ability power build.
 Jax's ability power should eventually surpass 200% of his base attack damage making

Lich Bane

a better choice than

Trinity Force

for the passive. You might still have to find other items to make up for all the other stats that

Trinity Force

gives. Think about pairing

Lich Bane

with

Rabadon's Deathcap

and

Hextech Gunblade

.

If you find  Jax squishy and are looking for an item that offers both armor, magic resistance, and is rather cheap, consider a

Guardian Angel

. Once enemies see a

Guardian Angel

on a  Jax, they'll have to really consider whether or not they want to focus him rather than some other squishy target.

Guardian Angel

should only be considered after completing the core damage build though.
With

Atma's Impaler

, consider taking a

Frozen Mallet

or

Rylai's Crystal Scepter

to further increase your damage while keeping your prey slowed.

Rylai's Crystal Scepter

, besides being 400 gold cheaper, procs on all of  Jax's abilities, including the third hit from  Grandmaster's Might, making it fairly reliable at slowing enemies down.

Consider hybrid offense-defense items such as

Atma's Impaler

or

Abyssal Scepter

.
Consider

Muramana

,

Phantom Dancer

,

Hextech Gunblade

,

Wit's End

and

Iceborn Gauntlet

. The various sources of damage (crit, on hit magic damage (Muramana usually hits for around ~110 at lvl 18's max 1800 mana for 16 autoattacks), sheen procs, gunblade's active) will make for a potent burst, as well as giving good offensive stats that specialize in attack speed (good luck getting the gold required). If you have experience with  Olaf, consider playing Jax as a more bursty anti-carry.

This build can be shrunk down to an intermediate level by building vamp scepter, hextech revolver, tear/zeal, sheen, boots and chainvest. 

Consider 

Phage

 as an early item on Jax. The increase movespeed on hit helps him stick to targets very well, as well as health and attack damage. It also builds into

Trinity Force

, a strong item on Jax. Advanced techniques of Phage include:

When ganking as a jungler, smite a minion to instantly gain 60 movespeed, you can use this to catch up to your target and use your  Leap Strike ->  Counter Strike combo to stun the enemy.
When escaping a gank, you can kill or hit a minion to gain 20 or 60 movespeed to get out of that gank. If necessary, you can also  Empower -> Leap Strike an enemy minion to both gain some distance and acquire 60 movespeed if you killed it. This can also be used on small jungle monsters.
Recommended builds
Edit
Summoner's Rift




recommended items

Starting

4

Essential
Offensive
Defensive
Consumables
The Howling Abyss




recommended items

Starting

2

Essential
Offensive
Defensive
Consumables
The Crystal Scar




recommended items

Starting

2

Essential
Offensive
Defensive
Consumables
The Twisted Treeline




recommended items

Starting
Essential
Offensive
Defensive
Consumables
Runes and Masteries
Edit
Being that  Jax is a mainly offensive champion, he is probably best with offensive masteries. Offensive masteries (21/9/0) are seemly better for his damage and with defensive masteries (9/21/0) there is a noticeable decline in his damage while not providing the survivability that one would expect.
A rune page of attack damage and ability power per level can give a powerful scaling amount of bonus damage on all of his abilities, or a flat attack damage and ability power rune page can give a massive burst of damage on  Leap Strike and  Empower for laning, leading to an advantage over the opposition during the early and mid phase of the game. This is especially useful for shorter games, such as those on the Twisted Treeline.
Jax can also make use of attack speed  runes effectively as they improve both his physical damage (in basic attacks) and magic damage ( Grandmaster's Might's third hit).
Countering
Edit
Champion spotlight
Edit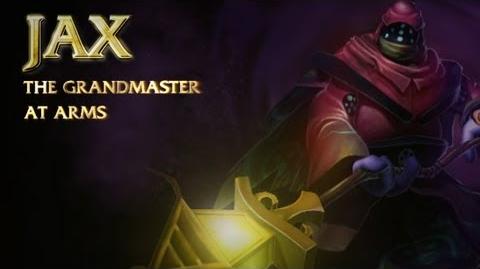 Upcoming Champions
Canceled Champions
Concept Art