Champion Spotlight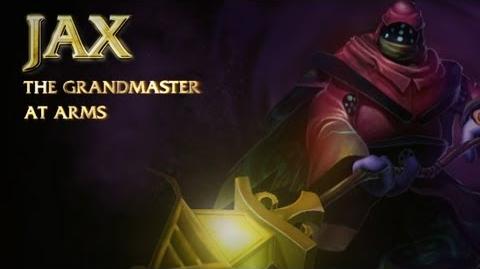 Recommended Items
Tips
Playing As
Jax can
to friendly units, including wards. You can use them to plan your escape.
Jax benefits greatly from items that have both Ability Power and Attack Damage such as
and .
Playing Against
Try to engage him in short bursts instead of going toe-to-toe with him. Preventing him from attacking
drastically lowers his damage output.
Jax can
all incoming attacks for a very short amount of time and enemies in melee range when it ends. Wait to strike him until after his is finished.
Tricks
Ability Usage
At level 18 Jax has capped attack speed (2.5 attacks per second) with 8 stack of
and 145% attack speed.
Mastery Usage
Item Usage
Countering
References
Ad blocker interference detected!
Wikia is a free-to-use site that makes money from advertising. We have a modified experience for viewers using ad blockers

Wikia is not accessible if you've made further modifications. Remove the custom ad blocker rule(s) and the page will load as expected.