"Submit to my designs."

Use the info here with consideration. It might be outdated or biased info.
Gameplay
Champion Spotlight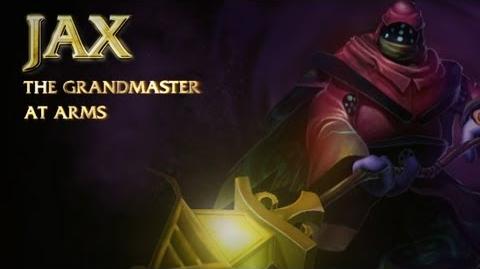 Recommended Items
Tips
Playing As  Jax
Jax can  

Leap Strike

to friendly units, including wards. You can use them to plan your escape.
Jax benefits greatly from items that have both Ability Power and Attack Damage such as
and .
Playing Against  Jax
Try to engage him in short bursts instead of going toe-to-toe with him. Preventing him from attacking  

consecutively

drastically lowers his damage output.
Tricks
Ability Usage
Mastery Usage
Item Usage
Even with his fairly high base stats, as a carry  Jax is very item dependent for his damage output and survivability, being able to obtain gold from any source and building the best items at the most opportune time is crucial to his mid and late game.
 Jax is one of very few champions that can be itemized for attack damage, magic damage, or both. Keep in mind that not going hybrid doesn't take advantage of a lot of  Jax's kit and will leave  Jax lacking either some armor or magic resistance on his  

Grandmaster's Might

active.
 Jax needs: attack damage and ability power for chewing through health (and by extension, armor and magic resist with  

Grandmaster's Might

), life steal and spell vamp for sustainability, and a ranged slow active that considerably helps chasing.
in particular provides everything that
A  

Leap Strike

and  

Empower

allows  Jax to deal a massive amount of damage in quick succession. Although  

Leap Strike

will

not

proc , it will proc  

Empower

and leave  Jax close to the enemy and ready to land a normal attack which will in turn proc . This all happens very fast, making it a good way to harass or burst down a target. If you find this efficient, consider a in a build with more ability power and in other cases.
with
The  Jax. He can take monsters down at lightning speed by procing the bonus damage from it with  

Relentless Assault

. Combined with the  he can gank and duel extremely efficiently, due to the reduced damage received and on-hit true damage dealt after smiting his target.
-enchantment is an effective jungling option for
Attack speed is fairly important on  Jax. He should have at least one item that provides it to coincide with his  

Relentless Assault

. Consider purchasing , , , or .

item in an offensive hybrid build, and remember than you can start stacking it by using abilities, especially if you engage on an enemy with  

Counter Strike

,  

Empower

, and  

Leap Strike

all at once. In a hybrid build, it is a solid third item after boots and .
synergizes with his passive and offers a good source of mixed damage. Consider this
 Jax for the ability power, cooldown reduction, and attack speed without waiting for the stacking of or his  

Relentless Assault

passive. If you value any of those stats over the additional ability power and attack damage of , choose over . Of course, you could get both as they are rather cheap for what they give.
is a good pick on
A attack damage build.
is most appropriate in a full
The attack speed of does not make it an offensive item and is mostly for the magic resistance. As  Jax is mostly an offensive champion, could probably be replaced with a more useful offensive item.
Keep in mind that Jax needs 234.2% bonus attack speed at level 18 to reach the 2.5 limit, but a fully stacked  

Relentless Assault

will reduce this requirement to 150%.

Because a large amount of  Jax's damage comes from the passive on  

Grandmaster's Might

and  

Empower

, a full ability power build with a little attack speed is acceptable on  Jax. Doing so would be ignoring his inherent hybrid balance with his abilities' attack damage and ability power ratios.

The magic penetration of can effectively increase the damage of  

Empower

and the passive of  

Grandmaster's Might

. However because  Jax is very susceptible to CC so is a more balanced choice. Use only if you don't expect much crowd control.
armor from  

Grandmaster's Might

in an ability power build.
would easily make up for the lack of
 Jax's ability power should eventually surpass 200% of his base attack damage making a better choice than for a Spellblade. You might still have to find other items to make up for all the other stats that gives. Think about pairing with , , and .

If you find  Jax squishy and are looking for an item that offers both armor, magic resistance, and is rather cheap, consider a . Once enemies see a on a  Jax, they'll have to really consider whether or not they want to focus him rather than some other squishy target. should only be considered after completing the core damage build though.
Consider taking a

 Jax's abilities, including the third hit from  

Grandmaster's Might

, making it fairly reliable at slowing enemies down. However, a provides a stronger slow for  Jax.

If a  

Grandmaster's Might

's passive and all of his other abilities and syngerizes well with the built in slow.
or is built first, consider building as the item's passive also procs with

, besides being 400 gold cheaper, procs on all of

or to further increase your damage while keeping your prey slowed.
Consider hybrid offense-defense items such as

 

Grandmaster's Might's

active effect gives  Jax some extra armor and magic resist based on his attack damage and ability power. Thus, building  Jax fully offensive is an option.

.
A  

Relentless Assault

. It also has a nice active which allows Jax to chase down enemies.
strongly amplifies Jax's damage for second output thanks to the item's passive and the built in attack speed which synergizes with his
Consider  Olaf, consider playing  Jax as a more bursty anti-carry.

This build can be shrunk down to an intermediate level by building
, , / , , , and . 

, , , and . The various sources of damage will make for potent burst, as well as giving good offensive stats that specialize in attack speed. If you have experience with
Consider Rage helps him stick to targets very well. It also builds into , a strong item on Jax. Advanced techniques of include:

When ganking as a jungler, kill or hit a minion to instantly gain movement speed. You can use this to catch up to your target and use your  

E

 >  

Q

combo to stun the enemy.

 as an early item on Jax, as
Countering