"Submit to my designs."

Use the info here with consideration. It might be outdated or biased info.
Gameplay
By NeeksNaman [1]
If you're ready to add a little versatility to your fighter or ranged carry game, look no further than
 Jayce, the Defender of Tomorrow. Jayce's transforming weapon allows him to adapt to nearly any situation, making him an extremely versatile champion for whatever role you need filled on the Fields of Justice.
The lynchpin in Jayce's kit is his ultimate. Starting with a free rank at Level 1, Jayce can activate his ultimate to transform his weapon into either the short range
 Mercury Hammer or the long range
 Mercury Cannon. Each time he transitions he'll receive a bonus effect on his next basic attack that either shreds the target's defensive stats (
 ranged mode) or deals significantly increased damage (
 melee mode).
Selecting the right weapon type for your current engagement is the key to playing Jayce effectively. While
 ranged, Jayce can pepper enemies with ranged attacks, deploying
 Shock Blast and
 Hyper Charge to wear down opponents while utilizing
 Acceleration Gate to keep his team at a safe distance. Having worn an enemy down in this manner,
 Acceleration Gate can be repurposed to give chase, allowing him to shift his weapon into its
 hammer form and leap into the fray with
 To The Skies!
Once he's closed the distance, he can utilize
 Thundering Blow to pick up a quick kill, while the additional Armor from being in melee mode gives him the toughness necessary to either withdraw or continue fighting at close range. However you choose to play Jayce, canny shifting between his weapon modes will make or break your success on the battlefield.
Champion Spotlight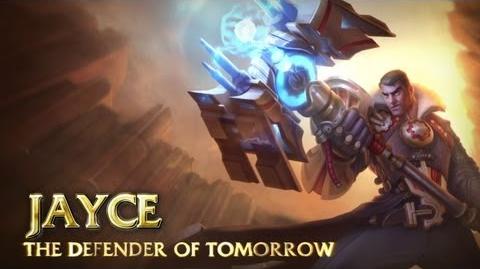 Recommended Items
Tips
Playing As  Jayce
Be sure to  

switch stances

often. It will enhance your attacks and grant you quick bursts of speed.
If you find yourself taking lots of damage, try using Jayce's  

Hammer Stance

, as it grants you additional defenses.
For increased range and damage, try casting  

Shock Blast

through the  

Acceleration Gate

.
Playing Against  Jayce
Jayce can attack  

in melee

or  

at range

. Pay attention to his stance and weapon color to know how he is going to attack.
If you see Jayce drop his  

Acceleration Gate

, be careful, he is probably about to cast  

Shock Blast

.
Jayce is strong in the early game. If he gains the advantage, play defensively.
Tricks
Ability Usage
Mastery Usage
Item Usage
Countering
References