Ad blocker interference detected!
Wikia is a free-to-use site that makes money from advertising. We have a modified experience for viewers using ad blockers

Wikia is not accessible if you've made further modifications. Remove the custom ad blocker rule(s) and the page will load as expected.
Champion Spotlight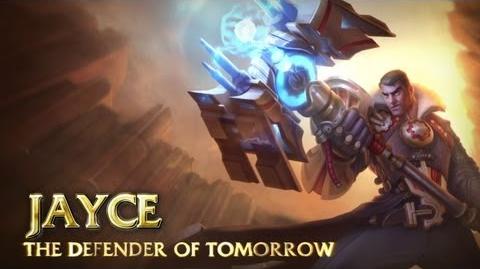 Recommended Items
Tips
Playing As  Jayce
Be sure to  

switch stances

often. It will enhance your attacks and grant you quick bursts of speed.
If you find yourself taking lots of damage, try using Jayce's  

Hammer Stance

, as it grants you additional defenses.
For increased range and damage, try casting  

Shock Blast

through the  

Acceleration Gate

.
Playing Against  Jayce
Jayce can attack  

in melee

or  

at range

. Pay attention to his stance and weapon color to know how he is going to attack.
If you see Jayce drop his  

Acceleration Gate

, be careful, he is probably about to cast  

Shock Blast

.
Jayce is strong in the early game. If he gains the advantage, play defensively.
Tricks
Ability Usage
Mastery Usage
Item Usage
Countering
References