Skill Usage
Build Usage
Recommended builds
Summoner's Rift




recommended items

Starting
Essential
Offensive
Defensive
Consumables
The Howling Abyss




recommended items

Starting

2

2

Essential
Offensive
Defensive
Consumables
The Crystal Scar




recommended items

Starting

2

Essential
Offensive
Defensive
Consumables
The Twisted Treeline




recommended items

Starting
Essential
Offensive
Defensive
Consumables
Countering
Try to dodge her  

Flame Chompers!

as they have a very long cooldown early on and are her only disengaging ability.

At the same time, they may be used offensively to engage on you in conjunction with other CC from the support. This can often mean death as players will often follow up with  

Zap!

, which has high damage and a slow that will make it difficult to dodge a  

Super Mega Death Rocket!

.

When laning against Jinx, be wary of her using  

Fishbones

as she farms, as the splash damage will hit multiple minions at a time and anyone standing near them.
 Jinx's ultimate  

Super Mega Death Rocket!

has a global range. Avoid recalling out in the open and do not walk back to base down the middle of a lane's path.
Because of the execute damage on  

Super Mega Death Rocket!

, Jinx can pick up a kill relatively easily on a low health ally if you are too close. If necessary, block it early if you are healthy yourself to deny her both the kill and her passive proc.
 Jinx has immense pushing capability early on with the assistance of  

Pow-Pow

. Focus on maintaining lane balance during the early game to shut out a potential tower loss.
High mobility assassins such as  Lee Sin and  Kassadin are Jinx's biggest threats. Have such champions focus on her during teamfights.
Positioning is important in maintaining health during a push or a team fight, as Jinx is dependent on landing her skillshots in order to deal damage. Always have tanks surrounding weaker champions or at the very least facing Jinx.
High armor items reduce Jinx's damage output severely.

Warden's Mail

and the two items it builds into are the most effective defenses, as the passive attack speed slow counters her stacking attack speed from  

Pow-Pow

.
Champion Spotlight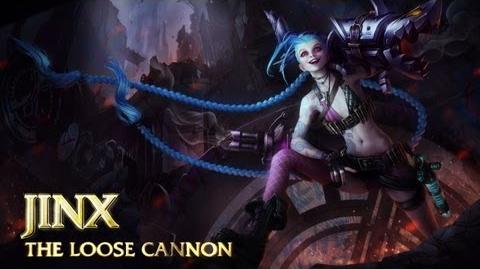 Upcoming Champions
Canceled Champions
Concept Art