Skill usage
Build usage
 Karma's abilities can make her deceptively tanky. However since this tankiness comes from active abilities she is especially vulnerable while stunned or silenced, making

Mercury's Treads

and

Banshee's Veil

good options when the other team has a lot of CC.
As explained above;  Karma's has quite a powerful burst, usually enough to blow up any ADC (which is usually the job of a mage) but can't bring tanky fighters under 30-45% of their health.

The

Deathfire Grasp

with the initial nuke and increased damage can help with this problem, and the CDR is extremely useful for her.

Tear of the Goddess

can be build early to solve any mana problems and quickly rushed to

Archangel's Staff

to charge it faster. Couple with items as

Rod of Ages

it can give over 130 ability power, not to mention that  Karma's's mana pool is quite large.
 Karma's benefits greatly from cooldown reduction, which paired with  

Gathering Fire

can burn the cooldown of  

Mantra

in a couple of seconds in a teamfight and can allows the use of your ultimate up to 3 times if you are really aggressive.

 Karma's is quite mana-hungry because of the spammish nature of  

Inner Flame

, due to this the

Morellonomicon

allows her to sustain her damage and improve it's spammy nature, as well as providing a good deal of AP

Another option is

Athene's Unholy Grail

, however, keep in mind that when you buy yourself a Grail a large deal of gold is poured on the defensive stat. This is quite more expensive than the

Morellonomicon

and does not provide as much as AP as the Book. The mana regeneration offered by this item is also a bit too high for the likes of  Karma's
Any of these items combined with sorcery and 

Ionian Boots of Lucidity

 will allow her to achieve 40% CDR, which is quite critical on her.

 

Inner Flame

is her main source of damage all game long, and it happens to apply a slow, which instantly procs the improved burn of 

Liandry's Torment

, not to mention that it gives the magic penetration that she is likely to sacrifice by getting 

Ionian Boots of Lucidity

instead of

Sorcerer's Shoes

, and the bonus health is quite high, considering she has to get really close to deal damage
Building

Zhonya's Hourglass

and

Abyssal Scepter

will not only provide more durability for  Karma, but additional AP as well.
Consider buying a

Zeke's Herald

if you're playing support. This aura is powerful for teamfights.
Having excellent ratios on her abilities (especially when  

Mantra

is on them)

Rabadon's Deathcap

is a must if playing as mage, and even as support it can be useful if your team lacks burst.
Top lane will generally require  Karma to rush an early

Chalice of Harmony

and then a

Seeker's Armguard

to allow for constant mana and then to counter AD damage and grant some AP.

Either

Athene's Unholy Grail

or

Morellonomicon

is recommended due to the fact that having mana and all your abilities off cooldown will vastly improve  Karma's zoning and kyting potential, as well as making her much harder to gank.

Due to the changes to

Spirit Stone

Karma is much more viable in jungle now. In jungle  Karma benefits most from early mana regen items with CDR, such as

Athene's Unholy Grail

or

Morellonomicon

. The CDR is necessary for clear time and to improve early dueling potential. AP is also recommended to allow her damage to keep up in mid game.
Recommended builds
Summoner's Rift




recommended items

Starting

2

Essential
Offensive
Defensive
Consumables
The Howling Abyss




recommended items

Starting

4

Essential
Offensive
Defensive
Consumables
The Crystal Scar




recommended items

Starting

2

Essential
Offensive
Defensive
Consumables
The Twisted Treeline




recommended items

Starting
Essential
Offensive
Defensive
Consumables
Countering
Champion spotlight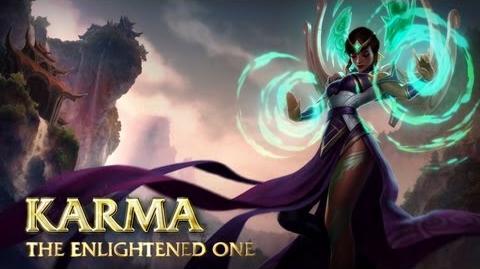 Upcoming Champions
Canceled Champions
Concept Art