"Submit to my designs."

Use the info here with consideration. It might be outdated or biased info.
Gameplay
Champion Spotlight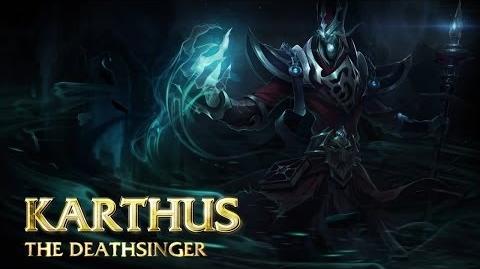 Learn to
 defy death and obliterate your enemies
 near and
 far in the Karthus Champion Spotlight.
 Karthus is a powerful and persistent solo lane mage. Whittle your enemies down with repeated casts of
 Lay Waste, using smart positioning and timing to deal extra damage to lone targets. When your jungler comes in to gank, throw down
 Wall of Pain and activate
 Defile to deal huge area of effect damage to your slowed enemies. Even if they get away, they're still not safe from
 Requiem, a colossal global ultimate that devastates every enemy champion on the map.
Recommended Items
Tips
Playing As  Karthus
Ask your allies to help point out when you should use  

Requiem

to get kills in different lanes.
 

Lay Waste

is very strong at farming minions and harassing enemy champions.
Playing Against  Karthus
Karthus can cast spells for a short duration  

after he is killed

. Move away from  

his corpse

to be safe.
Make sure you always have enough health to survive  

Requiem

, even if you have to go back to the base more frequently to heal.
Tricks
Ability Usage
Sometimes it can benefit  Karthus to die a strategic death by rushing into a group of enemies and casting  

Defile

the enemy will focus you long enough for your team to initiate without affecting your chance of winning a team fight, as  Karthus can cast his spells even after dying.

You can also activate  

Defile

tick even longer.
right before dying to let

His passive allows him to cast spells for seven seconds after dying. Abuse this every time you die and punish any who remain near your corpse, casting  

Wall of Pain

if not already used and endlessly casting  

Lay Waste

. This may actually get you a kill.
When focusing on harassment, try placing  

Lay Waste

where it will hit the champion, but not the minions. This way, it will deal double damage.
 

Lay Waste

can be used to scout brushes since it reveals a small area around where it is cast. Since the skill has a low base cost, this can be used to scout brushes frequently.
Taking 1 level of  

Wall of Pain

gives you a slow allowing you more time to cast  

Lay Waste

on fleeing enemies, as well as deterring attempts of harassment, even at their towers. In late game it is useful in team fights, thanks to its magic resistance debuffs. With this abilities,  Karthus can actually be a very good ganker, as it slows and allows his teammates to deal more damage.
 

Defile

at higher levels can mow down creeps by standing next to them or walking past them for just 2 seconds. If given free rein or adequate protection from enemy champions, this can turn the tide of a battle very quickly or cement a team's victory.
Ask your allies to help point out when you should use  

Requiem

to get kills in different lanes, or alternatively, alert your teammates when you are about to use it. However, be sure to keep your eye out for action elsewhere on the map; you may be able to help someone when they otherwise wouldn't have time to type for help.
Before using  

Requiem

to kill a retreating enemy, consider the shield/heal/defensive abilities and items of the enemy team; at endgame, it is usually more important to have an ultimate up than to force enemies to heal.
During laning, it may be more beneficial to attack the caster minions in the back and to kill them than to harass an opponent. If you find yourself being outlaned by the enemy, pushing them back and stacking up on your own minions can help control them and keep them away from your tower.

If your team can effectively distract the enemy,  Karthus can actually be a very effective pusher, as the sheer speed at which he can consistently clear minion waves allows him to push his team's minions to a tower and destroy it in a short amount of time.

 Karthus highly benefits from the Crest of Insight buff, giving him increased mana regeneration and reduced cooldowns for all his spells, allowing a focused AP build.
 

Requiem

can be used mid-game before a major offensive is launched to weaken all enemies, making them easier to kill.
It is possible to jungle using  Karthus with the proper runes and/or masteries. To get the blue golem rune, use  

Lay Waste

only on the blue golem (missing the smaller monsters). This way, you will deal double damage to only the golem.
Be careful of when to use  

Requiem

due to your ability power and the enemies magic resistance.
Both  

Wall of Pain's

slow and stat reduction go through .
 

Wall of Pain

can be a viable tool to saving an ally champion's life due to its movement speed reduction. Use it to give your allies a chance to get away if they are running from a pursuing champion.
Notice that  Karthus is very good at medium range, however he is easily countered by champions who can attack him from a very long range like, for example,  Lux.
Casting  

Requiem

while actually alive is generally a bad idea, unless you are well away from any enemy champions or they are on the retreat from your team. You

will

become the focus of enemy champions during the lengthy channel, and if you die or are disabled during it, the ability is cancelled and goes on cooldown. If you die

before

using  

Requiem

, however, you can still use it during  

Death Defied

and your opponents will be unable to stop you in any way.
Mastery Usage
Item Usage
Due to  

Requiem

, the enemy team will likely build some magic resistance. Building magic penetration items such as will help pass through their defenses.
When played with a more tanky build, consider Icy provides a slow for all of your abilities, especially for  

Lay Waste

, which you can use to kite enemy with terrifying efficiency.
as a top-priority item.
Try building tanky on  Karthus as you will try to stay in the teamfight with your  

Defile

on and spam  

Lay Waste

.
 Karthus. The low cooldown on  

Lay Waste

allows  Karthus to proc Echo ridiculously frequently, and the bonus AP and bonus movement speed helps even more.
is terrifying on
Building an  Karthus as  

Lay Waste

can quickly build up Mana Charge and by extension Insight.

On other hand, a  Karthus tankier, while taking less time to reach its full benefits. You can get both if you constantly find yourself out of mana.
will make

is a strong choice for
 

Wall of Pain

, allowing you to lower a target's magic resistance even more.
has good synergy with
As mentioned previously,  Karthus can be played as suicide initiator. Build him fully offensive with items such as and to maximize your damage output.
 Karthus: because he has a lot of sustained damage it is easy to proc the %max hp burn, allowing  Karthus to consistently wear down the enemy team, no matter how high their health pools are. Activate  

Defile

and proceed to shred the entire enemy team's health.

The magic penetration also has great synergy with  Karthus during the early game, due to the high base damage on his ultimate.

has great synergy with
 Karthus is not only in risk of dying most of time due to his moderate range and his squishiness, but also because he wants to die anyway during teamfights, allowing him to spam his spells for free. Also, this is an item that is oriented for early/mid game snowball champions, but  Karthus is a late game champion and it is very unlikely that he will be able to snowball early game. Also, he doesn't have great AP ratios and will not actually benefit that much from a fully stacked . Not to mention, this item delays the rest of his core items.
is not a recommended item because
Countering
References